The Plan Unfolds
---
Because of this, I, Paul, a prisoner of Christ (Jesus) for you Gentiles-- if, as I suppose, you have heard of the stewardship of God's grace that was given to me for your benefit, (namely, that) the mystery was made known to me by revelation, as I have written briefly earlier. When you read this you can understand my insight into the mystery of Christ, which was not made known to human beings in other generations as it has now been revealed to his holy apostles and prophets by the Spirit, that the Gentiles are coheirs, members of the same body, and copartners in the promise in Christ Jesus through the gospel. Of this I became a minister by the gift of God's grace that was granted me in accord with the exercise of his power. To me, the very least of all the holy ones, this grace was given, to preach to the Gentiles the inscrutable riches of Christ, and to bring to light [for all] what is the plan of the mystery hidden from ages past in God who created all things, so that the manifold wisdom of God might now be made known through the church to the principalities and authorities in the heavens. This was according to the eternal purpose that he accomplished in Christ Jesus our Lord, in whom we have boldness of speech and confidence of access through faith in him.
Not just any child
For a child is born to us, a son is given us; upon his shoulder dominion rests. They name him Wonder-Counselor, God-Hero, Father-Forever, Prince of Peace. His dominion is vast and forever peaceful, From David's throne, and over his kingdom, which he confirms and sustains by judgment and justice, both now and forever. The zeal of the LORD of hosts will do this" (Isaiah 9: 1- 6)
When the days were completed for their purification according to the law of Moses, they took him up to Jerusalem to present him to the Lord, just as it is written in the law of the Lord, "Every male that opens the womb shall be consecrated to the Lord," and to offer the sacrifice of "a pair of turtledoves or two young pigeons," in accordance with the dictate in the law of the Lord. Now there was a man in Jerusalem whose name was Simeon. This man was righteous and devout, awaiting the consolation of Israel, and the Holy Spirit was upon him. It had been revealed to him by the Holy Spirit that he should not see death before he had seen the Messiah of the Lord. He came in the Spirit into the temple; and when the parents brought in the child Jesus to perform the custom of the law in regard to him, he took him into his arms and blessed God, saying: "Now, Master, you may let your servant go in peace, according to your word, for my eyes have seen your salvation, which you prepared in sight of all the peoples, a light for revelation to the Gentiles, and glory for your people Israel." The child's father and mother were amazed at what was said about him; and Simeon blessed them and said to Mary his mother, "Behold, this child is destined for the fall and rise of many in Israel, and to be a sign that will be contradicted (and you yourself a sword will pierce) so that the thoughts of many hearts may be revealed." (Luke 2: 22-35)
Not just any destiny
Behold, the days are coming, says the LORD, when I will raise up a righteous shoot to David; As king he shall reign and govern wisely, he shall do what is just and right in the land. In his days Judah shall be saved, Israel shall dwell in security. This is the name they give him: "The LORD our justice." (Jeremiah 23: 5, 6)
There was also a prophetess, Anna, the daughter of Phanuel, of the tribe of Asher. She was advanced in years, having lived seven years with her husband after her marriage, and then as a widow until she was eighty-four. She never left the temple, but worshiped night and day with fasting and prayer. And coming forward at that very time, she gave thanks to God and spoke about the child to all who were awaiting the redemption of Jerusalem. When they had fulfilled all the prescriptions of the law of the Lord, they returned to Galilee, to their own town of Nazareth. The child grew and became strong, filled with wisdom; and the favor of God was upon him. Each year his parents went to Jerusalem for the feast of Passover, and when he was twelve years old, they went up according to festival custom. After they had completed its days, as they were returning, the boy Jesus remained behind in Jerusalem, but his parents did not know it. Thinking that he was in the caravan, they journeyed for a day and looked for him among their relatives and acquaintances, but not finding him, they returned to Jerusalem to look for him. After three days they found him in the temple, sitting in the midst of the teachers, listening to them and asking them questions, and all who heard him were astounded at his understanding and his answers. When his parents saw him, they were astonished, and his mother said to him, "Son, why have you done this to us? Your father and I have been looking for you with great anxiety."
And he said to them, "Why were you looking for me? Did you not know that I must be in my Father's house?" But they did not understand what he said to them.
He went down with them and came to Nazareth, and was obedient to them; and his mother kept all these things in her heart. And Jesus advanced (in) wisdom and age and favor before God and man. (Luke 2: 36-42)
Not just any result
Rejoice heartily, O daughter Zion, shout for joy, O daughter Jerusalem! See, your king shall come to you; a just savior is he, Meek, and riding on an ass, on a colt, the foal of an ass. He shall banish the chariot from Ephraim, and the horse from Jerusalem; The warrior's bow shall be banished, and he shall proclaim peace to the nations. His dominion shall be from sea to sea and from the River to the ends of the earth. (Zechariah 9: 9,10)
"Then I saw a new heaven and a new earth. The former heaven and the former earth had passed away, and the sea was no more. I also saw the holy city, a new Jerusalem, coming down out of heaven from God, prepared as a bride adorned for her husband. I heard a loud voice from the throne saying, "Behold, God's dwelling is with the human race. He will dwell with them and they will be his people and God himself will always be with them (as their God). He will wipe every tear from their eyes, and there shall be no more death or mourning, wailing or pain, (for) the old order has passed away." The one who sat on the throne said, "Behold, I make all things new." Then he said, "Write these words down, for they are trustworthy and true." He said to me, "They are accomplished. I (am) the Alpha and the Omega, the beginning and the end. To the thirsty I will give a gift from the spring of life-giving water. The victor will inherit these gifts, and I shall be his God, and he will be my son. "The city had no need of sun or moon to shine on it, for the glory of God gave it light, and its lamp was the Lamb. The nations will walk by its light, and to it the kings of the earth will bring their treasure. During the day its gates will never be shut, and there will be no night there. The treasure and wealth of the nations will be brought there, but nothing unclean will enter it, nor any (one) who does abominable things or tells lies. Only those will enter whose names are written in the Lamb's book of life." (Rev. 3:1-7, 23-27)
---
More Advent & Christmas
The word Advent derives from the Latin word meaning coming. The Lord is coming. We may reflect that every year at this time we celebrate his coming , so that in a sense we can lose the feeling of expectancy and joyful anticipation, because at the end of the season, everything seems to return to pretty much the same routine. If that is the case, then our preparation may have been lacking ... continue reading

To become the mother of the Savior, Mary "was enriched by God with gifts appropriate to such a role."132 The angel Gabriel at the moment of the annunciation salutes her as "full of grace". In fact, in order for Mary to be able to give the free assent of her faith to the announcement of her vocation, it was necessary that she be wholly borne by God's grace... continue reading
---

The weeks of Advent remind us to set aside some of the hectic business of the holiday season, and to quietly reflect on the promise of the baby born in Bethlehem 2000 years ago. The Bible readings listed below relate to the Advent themes of waiting, preparation, light in the darkness, and the coming of the promised Messiah. continue reading
---
More Advent & Christmas News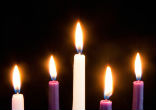 With the first Sunday of Advent behind us, the liturgical season of preparing for Christmas is well underway. Denver, Colo. (CNA) - ... continue reading
---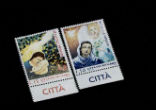 The artwork featured on the Vatican's postage stamps for Christmas 2018 were painted by a man serving a life-sentence in a Milanese ... continue reading
---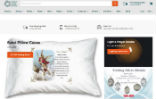 Catholic Online Shopping has announced 40 Days of Deals. Catholic gifts will be discounted, allowing shoppers to get bargains on some of ... continue reading
---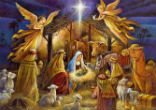 The Nativity Scene is a meaningful expression for our religious faith. With it, we provide a captivating visual focus during the Christmas ... continue reading
---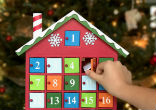 An Advent calendar has become a tradition for many families when celebrating Advent and the Christmas season. Young children are full of ... continue reading
---