Christmas Quotes
---
What is Christmas? It is tenderness for the past, courage for the present, hope for the future. It is a fervent wish that every cup may overflow with blessings rich and eternal, and that every path may lead to peace.
The only real blind person at Christmas-time is he who has not Christmas in his heart.
There is a better thing than the observance of Christmas day, and that is, keeping Christmas.
"It is Christmas in the heart that puts Christmas in the air."
Do give books - religious or otherwise - for Christmas. They're never fattening, seldom sinful, and permanently personal.
May you have the gladness of Christmas which is hope; the spirit of Christmas which is peace; the heart of Christmas which is love.
We make a living by what we get but we make a life by what we give.
I will honor Christmas in my heart, and try to keep it all the year.
Christmas is not just a time for festivity and merry making. It is more than that. It is a time for the contemplation of eternal things. The Christmas spirit is a spirit of giving and forgiving.
Christmas is sights, especially the sights of Christmas reflected in the eyes of a child.
Christmas, my child, is love in action. ... Every time we love, every time we give, it's Christmas.
Christmas! The very word brings joy to our hearts. No matter how we may dread the rush, the long Christmas lists for gifts and cards to be bought and given--when Christmas Day comes there is still the same warm feeling we had as children, the same warmth that enfolds our hearts and our homes.
For centuries men have kept an appointment with Christmas. Christmas means fellowship, feasting, giving and receiving, a time of good cheer, home.
Mankind is a great, an immense family... This is proved by what we feel in our hearts at Christmas.
My idea of Christmas, whether old-fashioned or modern, is very simple: loving others. Come to think of it, why do we have to wait for Christmas to do that?
The message of Christmas is that the visible material world is bound to the invisible spiritual world.
---
More Advent & Christmas
The word Advent derives from the Latin word meaning coming. The Lord is coming. We may reflect that every year at this time we celebrate his coming , so that in a sense we can lose the feeling of expectancy and joyful anticipation, because at the end of the season, everything seems to return to pretty much the same routine. If that is the case, then our preparation may have been lacking ... continue reading
To become the mother of the Savior, Mary "was enriched by God with gifts appropriate to such a role."132 The angel Gabriel at the moment of the annunciation salutes her as "full of grace". In fact, in order for Mary to be able to give the free assent of her faith to the announcement of her vocation, it was necessary that she be wholly borne by God's grace... continue reading
---
The weeks of Advent remind us to set aside some of the hectic business of the holiday season, and to quietly reflect on the promise of the baby born in Bethlehem 2000 years ago. The Bible readings listed below relate to the Advent themes of waiting, preparation, light in the darkness, and the coming of the promised Messiah. continue reading
---
Ideas to Make Your Christmas Special
Traditions From Around The World
Christmas Quotes
More Advent & Christmas News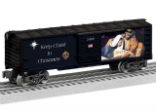 THE 2018 KEEP CHRIST IN CHRISTMAS BOXCAR Exclusively manufactured by Lionel in the USA for the Knights of Columbus.This limited edition is ... continue reading
---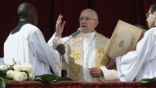 Pope Francis on Christmas Day said the commemoration of Christ's birth is an occasion to remember and pray for every child who suffers due ... continue reading
---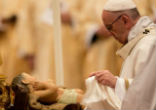 Pope Francis said the birth of Jesus is an invitation for all Christians to imitate him in reaching out to embrace the vulnerable and all ... continue reading
---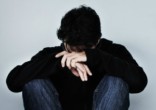 Since you came to Jesus, you've prayed, you've had faith in the Lord and you've done the best you could to meet God halfway - but now, near ... continue reading
---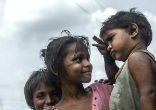 Imagine hearing a knock at your front door. As you open the door, to your great surprise you see a baby lying in front of you. Without ... continue reading
---