My Phone Call - Angel Stories
By: Barbara
My mother died in 1971, one month before I turned 19..we were all very upset that she died at such an early age (50). She had just completed college in 1969 and was in the process of fulfilling her dream of being a registered nurse.
As a nurse, it was required that all nurses and doctors have a routine chest xray every year. She had been working about a year when her xray was due to be done. She had the xray and it was discovered that she had numerous tumors on her lungs.
The next week she was scheduled for surgery...it was expected to be a 4 hour surgery...we knew something was wrong when the doctor came out after only 1 hour. He said that he had some bad news for us..it was an open and shut surgery..there were too many tumors to operate....they treated her with experimental chemo. 3 months after the lung cancer was discovered...they found that she had a brain tumor..this time they operated and removed it....as the months went by..she was not getting better...they did a CAT scan and found while the "hole" where they took the tumor out was trying to heal...her brain was "tearing" at another place..about this time it was discovered she had a tumor that was inoperable...to make a long story short...she passed away after a long year of fighting the disease.
My father consoled me the best he could..after all..he was just as upset as I was..he lived another 8 years and then he went to join my mom.
My husband and I were staying in my fathers house so it would not be empty for anyone to rob the place. A few days after we buried my dad...my hubby and I were in bed..sleeping and the phone woke me up. I had to get out of bed...walk down the hall, thru the kitchen into the dining room to answer the phone. I picked it up and at the other end I heard a woman's voice.."Barbara" ???..I said..yeah it's me..who is this...She said..it is mommy...I said yeah.?? what is up?..she said..." it is ok..go on with your life..your father is up here with me". I said.ok momma...I love you..she said..I love you Barbie...I hung up the phone and went back to bed..my husband asked me the next morning who was on the phone..I said ...Mom..she called to let me know Dad was with her...He said I was crazy....I let it go..I know Im not crazy..he just didnt believe in angels...He and I split up the next year..
I hope you dont mind me posting my story..Im not Catholic..but I was raised that people are people..no matter what religion...
God Bless You...
---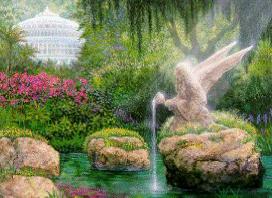 Some may never see with earthly eyes these heavenly beings or know that they exist. Many are unaware of the numerous ways they have protected and guided us. We would like to share with you the stories of people who take pleasure in expressing how real angels are.
---
More Saints
---
---
---
---
---
---
---
---
---
---
---
---
---
---
---
---
---
---