Angel in the rearview mirror - Angel Stories
By: Virginia Smith
It was a nice warm summer night, I decided to take the top off of my jeep and take a drive with my larger than large grey cat. My plan was to go downtown where it was alway festive with all the bright lights and people. I always got a kick out of people looking at my cat and asking me about him, he wore a harness that would fit a small poodle. On my way to downtown I had to pass through an area that was not too swell, there was alway crimes being committed there. About two blocks before I actually reached that area with my whole self being exposed and nothing to protect me because I'd taken the whole top off, I saw in the rear view mirror my mother, I knew it had to be a warning against so danger that was ahead, I immediately made a u-turn in the street and went home.

I also realized later that it was an angel in my mothers image, I have blonde hair and the image in the reaview mirror of my mother had black hair as she did. I just cannot tell enough people that my life or maybe some great harm was avoided because my angel saved me and my cat.
---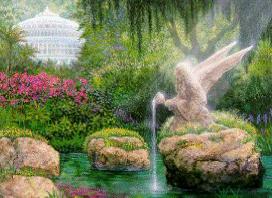 Some may never see with earthly eyes these heavenly beings or know that they exist. Many are unaware of the numerous ways they have protected and guided us. We would like to share with you the stories of people who take pleasure in expressing how real angels are.
---
More Saints
---
---
---
---
---
---
---
---
---
---
---
---
---
---
---
---
---
---