miracle - Angel Stories
By: BarbE
I Like Many others and although I can be emotional and Want to BELIEVE in such celestail beings as angels (guardian or otherwise), still remain(ed) a bit sceptical. That is to say in short hypocritical. Where as it seemed completely fathomable for me to accept other people may be blessed by some other worldly cosmic force. But when it came to ME personaly; that was another story!
What after all, had I ever done to be deserving of such blessings? I only attended mass on major catholic holidays and did so if I'm to be honest because I enjoyed getting dressed up. I certainly did not live the life I know god intended me to. And although I made fertile attempts to do the right thing and stay straight, it was just that. Effort! One rarely worth exerting in all honesty.
One afternoon during an all time low in my life however GOD saw it fit to intervene however and spare my life. I guess there are plans for me yet? huh? I was dropping a passenger off at her house and pulled my vehicle in front of her house facing upword on the same side of the street as her house. When all of a sudden my car had a mind of its own and some unseen force was pulling me backwords down this long narrow winding hill with great speed. I had No brakes they'd failed me and slaming the car into park didn't stop me either! I was so frightened I paniced and had to decide which backword downhill crash site would be best. Should I fallow the hill down and attempt to let gravity slow me at the foot? Too risky! Around this curve sat a home with 7 kids playing in the street on my way up. So my only choice was to twist my wheel and steer the car toward a small cottage wood shed closely approaching on the left and oppisite side of the road. I quickly turned the wheel. Closed my eyes and braced myself for the deadly crash. Now traveling at almost 50 miles an hour.
All of a sudden a Literal band of angels LIFTED MY CAR & ME up and set it back down safely downword in the correct lane.
It was a true miracle and many came rushing as witnesses.

---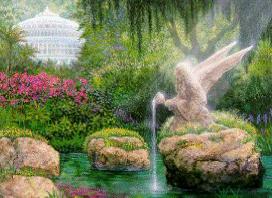 Some may never see with earthly eyes these heavenly beings or know that they exist. Many are unaware of the numerous ways they have protected and guided us. We would like to share with you the stories of people who take pleasure in expressing how real angels are.
---
More Saints
---
---
---
---
---
---
---
---
---
---
---
---
---
---
---
---
---