A New Light During Death - Angel Stories
By: Julia
When I was a very young child, only two or three, my grandfather, called Papy, on my mother's side was dying. He had cancer in what I believe were his lungs. I used to always be around him, and he liked me being there. I would cheer him up and make him smile, in spite of his pain. I, being a toddler, didn't fully realize how sick that Papy was.

When he was literally about to die, I was there and I realized how horrid the situation was. I sat on somebody's lap, and watched as Papy died... My older and younger siblings were not there, the older ones understanding this more, and gone not to watch Papy, and my younger sibling gone because he was probably having a fit, for he was only a baby.

I remember almost perfectly what happened next. An angel, wearing pure white robes, beautiful wings, a halo, glowing, and everything came to me. I believe that it was even a young women, the most beautiful that I have ever seen. She told me to not be afraid and to be calm. She said that everything would be alright.

Every time I thing back to when Papy died, I don't get a mournful feeling of death, but one of what a new life he must live in heaven. I don't feel upset; in fact, I feel content. Don't believe me if you will, but I know this happened no matter what others may say.
---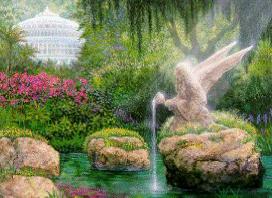 Some may never see with earthly eyes these heavenly beings or know that they exist. Many are unaware of the numerous ways they have protected and guided us. We would like to share with you the stories of people who take pleasure in expressing how real angels are.
---
More Saints
---
---
---
---
---
---
---
---
---
---
---
---
---
---
---
---
---
---