My Most Precious Jules - Angel Stories
By: Doreen Rodriguez
I once had a little sister named Julie. she was 10 years younger then me. She was my very best friend, & what made our friendship so unique was that we were sisters & no one could take that away. We loved eachother so much. We called eachother everyday & we would say how much we loved one another all the time. So much so that I started to call her JULES & she knew it was because that's the only way I can express how deep my love for her is. Jules loved to travel & spend time with me. She went to Massachusetts,Maryland,Pennsylvania,Florida & Puerto Rico with me. Aside of always spending quality time on holidays & even if it was just an hour it was always the best time we had. We were like little girls always looking for ways to make eachother laugh. Nothing ever changed when we grew up, got married & had kids. Except that we became closer then ever. When jules had her daughter she developed type 2 Diabetes. She was always sick from then on. she had to change her life style & eating habits if she wanted to survive. After a long battle, she had to also deal with lung,heart & her kidneys being damaged by the Diabetes,& when I became ill with chronic ANEMIA jules & I became one. We were constantly worried about one another & always inspired eachother to be strong & never slack on taking care of eachother. Then on the morning of DECEMBER 21,2012 I got a call that my most precious jules had a second heart attack & had moved on to be with god. This was by far the worst day of my life. It felt as if my heart was rip out my chest. It was the most painful thing I've ever heard or felt. I did not know what to do,how to feel. I just shut down. I screamed & cried so loud. I needed my jules,even if it was just to hold & hug her one last time,I didn't get to tell her how much more I loved her then the day before & so much less then the day after but the reality was she was gone & wasn't coming back. I could not believe that at just 37 yrs old, she was gone. I was suppose to go before her, not the other way around.
So now its seven months later & I'm still crying,still hurting, I can't function. Thoughts of jules in my head day & night, night & day, tears on my face started to become normal for me. Everyone else who loved me was worried that I too would fail due to how sick I've become from my anemia & other complications. So they decided to plan a vacation to visit other family members in VIRGINIA for the forth of JULY. While there as we all in the back yard starting to set fire works off,I decide to take a test shot of it(fireworks) getting ready to go off & I snap the picture & in my pic I captured an image of an ANGEL. It was the shape of a woman, she had wings & was standing in the light. With a glare that shine so bright likes JEWELS would. No one else's camara has captured this image. The angel also had hair styled the way jules would comb it. It was my most precious JULES coming across to heal me from the pain of lossing her here on earth. It was JULES coming to show me that she was still traveling with me. It was JULES doing what she did best making me smile instead of seeing me cry. Since that day on,I still miss her being here for me to hug & kiss but she has shown me that I can still tell her that I love her & she will show me a way that she loves me to, just as we always did. I miss her calls, her voice,her hugs but somehow,some way I can still hear her laugh & that brings me comfort & not pain. Rest in peace my most precious JULES til we meet again. I would have loved to share the picture. Its so beautiful. It is such a clear image of my guardian Angel.
---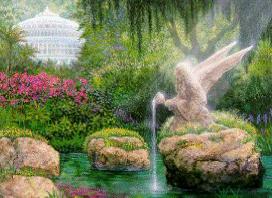 Some may never see with earthly eyes these heavenly beings or know that they exist. Many are unaware of the numerous ways they have protected and guided us. We would like to share with you the stories of people who take pleasure in expressing how real angels are.
---
More Saints
---
---
---
---
---
---
---
---
---
---
---
---
---
---
---
---
---
---