The angel in the Stratosphere - Angel Stories
By: George Valdez Velasco
As a young boy I never paid much attention to angels on the way they looked all I knew about angels was they were there to protect you from negative encounters. While I grew older at times I would ponder whether the angels really were guides and helpers of human kind. During the end of my High school year I became ill and could not fall asleep this still happens until know. Before as I remember I would go out in to the night and watch the Milky Way during the summer months as I lay on my back and stear at the vast number of stars. I would always wonder about other existence out there, one particular night during the hot summer months of July I went out to an open field and like usual I laid on my back to relax looking at the stars like any usual time as before. I can remember looking at the Milky Way like any other time as I was getting really to call it a night, a light in the sky cough my attention, but this was not any ordinary star light. I was able to actually tell that the night was not way above me like any other star because I was able to judge the distance away from me. It was like once around the track of my high school field. I was very puzzled but not afraid; although the light was close to me compared to the stars I did not know what it was. All this took about a few minutes, what really caught my attention was when I would close one eye I cannot remember whether it was my left or right eye the light source would dimmed and as I opened my shut eye the light would shine again, nothing out of the ordinary. Since then I always want to believe the light was an angel; well I do not why any way I just want it to.
The years when by and my illness progress, whenever I would feel down I would always think of that light in which I saw. The years when on and on Because of my illness I was transfer to a boarding home in the capital state of Sacramento California. I lived in the city, in a very populated area. Because of my illness I guess I would at times go out in to the street and walk for hours at end just until I would be very exhausted. One day as I clearly remember I walked for a long time until I was very tired. This time I decided to rest next to an abandoned building on the overgrown grass , there was a sight with the letter G with like a ruler around it I cannot remember at this time what it stands for but I know what it is and the history of it. Well any ways as I laied with my back facing the sky in the middle of the hot hours another young man did the same, we did not communicate I figured he was just as tire as I was. He seemed very happy because of the happy smile on his face. I took my senses of the young lad and continued to stare in to the open sky; I figured what could be more delighted than the passing clouds. Behold to my surprice what I saw where not clouds or passenger airplanes what I saw was this humongous angel I mean it was hudge I am not pulling no one's leg here, this angel was covering the entire sky. O boy I could not believe my eyes but I mean it was an angel just like on the scriptures and in like they were described in mass. The reason I did not panic I guess was because this big angel was staring at me with a smile. I could not figure out if other saw the angel because the angel was covering the entire sky, how could anyone not see the angel thought, with the wings covering almost the entire sky. After a while I just left and went home I do not remember if the angel just left or what no. The only communication was the smile. As I try to remember of the occasion like details there are some obvious details I just cannot remember but I do know I memorized every detail I could after all who would not. Since that day I have become a happy person. I wish everyone in the word would had witness what I did, I do not think much of it because it was plain and simple, seeing is believing especially with one of the senses we humans cherish the most, sight. I personally believe that if any one wants to be a witness to the gifts of god. It will be granted sooner or later and sooner or later is better than never at all.

---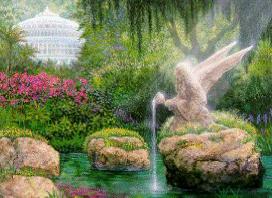 Some may never see with earthly eyes these heavenly beings or know that they exist. Many are unaware of the numerous ways they have protected and guided us. We would like to share with you the stories of people who take pleasure in expressing how real angels are.
---
More Saints
---
---
---
---
---
---
---
---
---
---
---
---
---
---
---
---
---
---