Horse riding - Angel Stories
By: Harriet
Horse riding is a dangerous sport. All riders know that we could be killed or paralyzed by a bad fall but that doesn't keep us from doing it. I was riding a friend's horse one day, helping her train him a little better and getting him used to different styles of riding. I had been working with him for several months at this point and decided to show his owner what he and I could do. The only problem was it had just rained. I knew better than to ride on slick ground but did so anyway. It was a pretty long drive out to the barn and I didn't want it to be a wasted trip.
Athos (the horse) and I had been working in for nearly half an hour, so I decided to push the limits of what we could do. I set up a low jump. I knew he wasn't an experienced jumper and the slick ground would only make everything more difficult. I jumped him anyway. Directly after the jump we had to make a sharp right turn and Athos stumbled but regained his feet as we came around. I ended up halfway down his shoulder with my feet stuck in the stirrups and thought 'I am about to die.' I could see his hooves flashing up near my face then suddenly there was a thudding pain in my ribs and I was somehow airborne. It was only for a split second but I remember being able to look down on Athos and the riding ring and seeing his empty saddle. In that moment I felt such utter peace.
I landed heavily on the ground a second later, not behind Athos (where a rider would normally end up after a fall) but nearly ten feet in front of him. We both looked at each other for a moment and after I got hold of him again and took him back into the barn I asked his owner, who had been watching us the whole time, what had happened and she replied that it was so quick she would probably never know. I know that it was an angel that saved me that day and nothing will ever be able to convince me otherwise.
---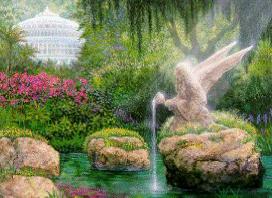 Some may never see with earthly eyes these heavenly beings or know that they exist. Many are unaware of the numerous ways they have protected and guided us. We would like to share with you the stories of people who take pleasure in expressing how real angels are.
---
More Saints
---
---
---
---
---
---
---
---
---
---
---
---
---
---
---
---
---
---