St. Michael Caretaker - Angel Stories
By: Pat
In 2000 I was caring for my mom who was in her 80's and suffering from dementia. She no longer knew anyone or thing around her except in rare moments of clarity. It was finally Thanksgiving and I had to return to Atlanta to be with my family but told her I would be back Jan. I hated to leave her even though my siblings lived there and hospice was involved in her care. While saying my prayers one morning before I left I looked at the icon of St. Michael and told him I had to go home and was placing mom in his care and to watch over her. I thought no more about it.

A week or so later I got a call from my younger brother who was helping with mom and he said her care taker had a question. She wanted to know who Michael was that mom kept trying to introduce her to and he didn't know anyone named Michael. Mom said he always stood by her wheel chair and was her friend. St. Michael stood by her until her death in Dec. before I could make it back.

As a side note, I would like to add that she also saw and spoke to "Mary". Because she would often call us Mary, a friend from her childhood, I asked her if it was that Mary. She looked at me as if I had lost my mind and said, "no its the Mary with the light all around her" and I needed to be quiet while they finished their talk. You have to understand for her to even have this lucid conversation with me was almost impossible due to the advanced dementia she suffered from. I'm sorry I couldn't see the shining Mary because I believe with all my heart it was Mother Mary. Mom was devoted to the rosary during her life and passed it on to her children. Mary has always told us she will be with us at the end of ours lives if we are devoted to her rosary and she was with mom.
---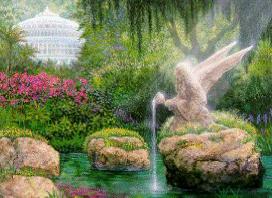 Some may never see with earthly eyes these heavenly beings or know that they exist. Many are unaware of the numerous ways they have protected and guided us. We would like to share with you the stories of people who take pleasure in expressing how real angels are.
---
More Saints
---
---
---
---
---
---
---
---
---
---
---
---
---
---
---
---
---
---