Long Hair - Angel Stories
By: Crystal Denney
Location: Neah Bay WA USA
My mother unexpectedly passed away when my sisters and I were in our teens-I was 19 and my twin sisters were 15. Our dad hadn't been around for quite some time, leaving before his divorce to my mom was final. We are from a tribe in WA state, and in our culture, to show you are in mourning, the women cut their hair very short.


At the time, I was in the process of growing my hair out for my wedding, which was to take place the following year. My sisters and I were gathered in my living room, absorbing the tragic events of the day, when one of my sisters asked me "Sister, are you going to cut your hair now?"


I looked wistfully at my beautiful long brown locks, thinking about my mama...
As a young girl, she kept my hair long, very very long. In fact, I had begged her for months at the age of 7 to cut my hair. >br>

Finally, after much thought, I told my sisters "No, I don't think I will. Mama loved my hair long. I'll keep it that way, for awhile at least."


At the same moment those words came out of my mouth, I felt an amazing sense of peace overcome me. I felt an overwhelming warmth that started at the top of my head and traveled clear to the tips of my toes. It felt as if I had literally walked into a ray of sunshine. I had chills without coldness, and my arm hairs were standing on end.


I am utterly convinced that my mama was telling me that it was OK either way....but I still kept my hair long until just recently!


---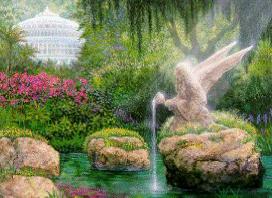 Some may never see with earthly eyes these heavenly beings or know that they exist. Many are unaware of the numerous ways they have protected and guided us. We would like to share with you the stories of people who take pleasure in expressing how real angels are.
FREE Catholic Classes Pick a class, you can learn anything