Hi readers, it seems you use Catholic Online a lot; that's great! It's a little awkward to ask, but we need your help. If you have already donated, we sincerely thank you. We're not salespeople, but we depend on donations averaging $14.76 and fewer than 1% of readers give.
If you donate just $5.00, the price of your coffee, Catholic Online School could keep thriving.
Thank you.
Give Now >
The Meaning of Mary
By Deacon Keith Fournier
"Behold, I am the handmaid of the Lord; let it be [done] to me according to your word."
The Annunciation - Giovanni Lanfranco - 1620
"At the announcement that she would give birth to 'the Son of the Most High' without knowing man, by the power of the Holy Spirit, Mary responded with the obedience of faith, certain that 'with God nothing will be impossible: Behold, I am the handmaid of the Lord; let it be [done] to me according to your word.' Thus, giving her consent to God's word, Mary becomes the mother of Jesus. Espousing the divine will for salvation wholeheartedly, without a single sin to restrain her, she gave herself entirely to the person and to the work of her Son; she did so in order to serve the mystery of redemption with him and dependent on him, by God's grace."
"As St. Irenaeus says, 'Being obedient she became the cause of salvation for herself and for the whole human race.' Hence not a few of the early Fathers gladly assert, 'The knot of Eve's disobedience was untied by Mary's obedience: what the virgin Eve bound through her disbelief, Mary loosened by her faith.' Comparing her with Eve, they call Mary 'the Mother of the living' and frequently claim: 'Death through Eve, life through Mary'" (CCC #494).
Coronation of Mary - Master of the Housebook - 1475-90
There are very few records of Mary's explicit words in the texts of the New Testament of the Bible. However, there is no lack of her presence at the most significant events in the life, ministry, death and resurrection of Jesus Christ and therefore in the great events of salvation history. She always encountered God - in profound ways - from the beginning to the end of her life. She lived in His presence. In every encounter, she surrendered to love and was changed. She was a woman prepared by God and continually surrendered to His love. This is the meaning of Mary. She is our model as well as our mother.
Mary was there at the Incarnation, Birth, Crucifixion, and Resurrection of the One whom Christians proclaim is God Incarnate, Jesus Christ. She was there throughout what are often called the "hidden years" in His life at Nazareth where ordinary work was ennobled and childrearing forever changed because of His participation. His disciples spent three years with Him, during His "public ministry," but Mary spent thirty three years!
Madonna and Child Enthroned with Music-Making Angels Giovanni di Piermatteo Boccati - 1455
We should remember and reflect on the truth that in the earthly life of the Redeemer, every word he uttered - at every age and stage - and every act he undertook was redemptive, revealing as it does the very life of God and the mystery of heaven touching earth. Because of that, every moment of His presence among us reveals the deeper purpose of our own lives when they are lived entirely for Him.
Mary was there in all those pregnant moments of His complete thirty-three year earthly mission of love. His redemptive presence forever changed the history of the world and can do so in our own personal histories if we learn how to surrender to His invitation to love and choose to live as she did. The mission of the Redeemer continues now for all who have the eyes to see His presence still walking and working among us; and the ears to hear His loving words still being spoken amidst the cacophony of our daily lives. Mary did.
His presence forever changed the world that we are all living in. We are welcomed into a new relationship with Him and therefore with this world that He still loves, if we invite His redemptive presence into our lives, co-operate with grace in order to change ourselves and allow ourselves to be prepared from His coming. Every waking moment can now be filled with the invitation of grace, if we learn to discover their deeper meaning and make them our own. If we learn to live our entire life as, an invitation to love, an encounter with the God of love, as Mary did, we will find our lives transformed by the Son whom she bore for the whole world.
Is it any wonder that the writings of the early "fathers" of the Christian Church are also replete with reflections on this woman who said so little verbally in the biblical text? That is because it is not about an abundance of our words but rather our receptivity to the Word.
The Intervention of Christ and Mary - Filippino Lippi
Justin Martyr and many other early Christian apologists found in her "fiat," her obedient "yes" to the angel, the undoing of the "no-I will not serve" uttered in rebellion by the first woman Eve. They called Mary "The Second Eve", the mother of a new creation, because she said "Yes" and in her womb carried the One whom the biblical authors would call the "New Adam." Jesus Christ was born from her as the first born of a new race of men and women who would themselves come to find a new birth through His life, death and Resurrection through saying "Yes" to him in both word and deed..
That same Redeemer now comes to reside within, and live through, all of those who respond to the invitation of Love like Mary did. All who are prepared and who surrender.
Mary's choice, her response to the invitation of a God who always respects human freedom, is a singularly extraordinary event in all of human history. However, it is meant to be much more. It is meant to be an invitation to each one of us to explore our own personal histories and to write them anew in Him.
---
More Mary, Mother of God
---
---
Appearances of Mary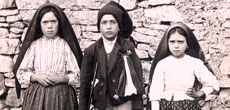 The term "appearance" has been used with Marian apparitions and visions of Jesus Christ. The Church will confirm an apparition as worthy of belief, but belief is never required by divine faith. Read More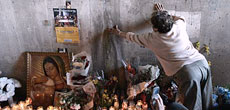 A Roman Catholic approved Marian apparition is one that has been examined by the Congregation for the Doctrine of the Faith and has been granted approval by the local Bishop or the Holy See. Read More
Approved Appearances
Traditionally
Vatican
Bishop
Coptic

Un-Approved Appearances
Approval of Faith Expression
Unapproved Apparitions

---
Mary as Mother
---
---
Mary as Model
---
Mary as Disciple
---
Way of Mary
---
Mission of Mary
---
Message of Mary
---
Devotion of Mary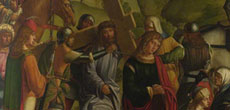 When they came to the place called the Skull, there they crucified him, along with the criminals - one on his right, the other on his left. Jesus said, "Father, forgive them... Read More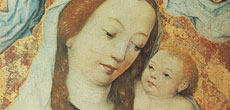 My soul magnifies the Lord, And my spirit rejoices in God my Savior; Because he has regarded the lowliness of his handmaid; For behold, henceforth all generations shall call me blessed... Read More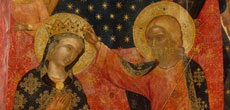 But at daybreak on the first day of the week they took the spices they had prepared and went to the tomb. They found the stone rolled away from the tomb; but when they entered... Read More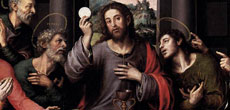 While he was praying his face changed in appearance and his clothing became dazzling white. And behold, two men were conversing with him, Moses and Elijah, who appeared in glory... Read More