Model of Holiness
Annunciation - Simone Martini - 1333
By Deacon Keith Fournier
The Catechism of the Catholic Church teaches "The Virgin Mary most perfectly embodies the obedience of faith. By faith Mary welcomes the tidings and promise brought by the angel Gabriel, believing that 'with God nothing will be impossible' and so giving her assent: 'Behold I am the handmaid of the Lord; let it be [done] to me according to your word.'"
"Elizabeth greeted her: Blessed is she who believed that there would be a fulfillment of what was spoken to her from the Lord." It is for this faith that all generations have called Mary blessed.Throughout her life and until her last ordeal when Jesus her son died on the cross, Mary's faith never wavered. She never ceased to believe in the fulfillment of God's word. And so the Church venerates in Mary the purest realization of faith" (CCC #148,149).
Catholics celebrate the Feast of the Annunciation of the Lord every year. Our Gospel passage read at Mass is taken from the first chapter of St. Luke (Luke 1: 26 -38). The Evangelist recounts Mary's encounter with the Lord's "messenger", which is what "Angel" means. Gabriel's appearance and message to Mary and her response to God's invitation teaches us how to live.
As the Apostle John writes; "the Word became flesh and made his dwelling among us, and we saw his glory, the glory as of the Father's only Son, full of grace and truth." (John 1:14) because God became like us, we are capacitated to now become, by grace, like Him. We are being re-created in Christ (2 Cor. 5:17). Created in His Image and Likeness, sin wounded us and we needed a Redeemer. In Christ Jesus, the likeness is restored.
From antiquity the early Christians reflected on a "mystery" of the faith- how the Incarnation of Jesus Christ came about through the free cooperation of this little Virgin of Nazareth and what it teaches us about God's loving plan of salvation and the meaning of holiness. Mary' role in this plan has significance on so many fronts. She is the model of holiness.
One of the earliest titles attributed to her by the early Christians was "the Second Eve". Whereas the first Eve said "No," the early Christian fathers reflected, the Second Eve said "Yes" and creation began anew in Jesus Christ. Mary is the "type" of the Church and the model for every Christian, called to say "Yes" to God and thereby become holy.
One of the Cappadocian fathers of the early Church, Gregory, once wrote "What came about in bodily form in Mary, the fullness of the godhead shining through Christ in the Blessed Virgin, takes place in a similar way in every soul that has been made pure. The Lord does not come in bodily form, for 'we no longer know Christ according to the flesh', but He dwells in us spiritually and the Father takes up His abode with Him, the Gospel tells us. In this way the child Jesus is born in each of us." (St. Gregory of Nyssa)
The Annunciation - Giovanni Lanfranco - 1620
This young woman was emptied of herself, in order to be filled with the very Life of God. She was able to completely surrender herself in love, to Love. Her initial assent to the Angel Gabriel's announcement reveals the meaning of this Biblical word, "holy". Holiness is not about looking pious. It is about being selfless.
In the original languages, the words in Holy Scripture which are translated into the English word "holy" mean set apart or consecrated to God's service, given over to God and His worship. We are called to be set apart for the living God, to be holy, in a world which has become steeped in sin and selfish ambition.
This happens through conversion, or "metanoia", which, in Greek, means "to change." We are called to say "Yes" to a relationship with Him. That call is not a one time event but a continual invitation. Mary is a model, a pattern, of this holiness to which we are all called through our Baotism into Christ and His Body, the Church.
The Lord has invited each of us into an intimate, personal, exchange of love with Him. Mary is a model to imitate. She walked in holiness of life and points us along the path to Her Son. Each of us can say "Yes" to God, right now, wherever we are. Each of us can respond with our entire being, with a "Fiat" of surrendered love as she did.
When we do, we can participate in the life of the God who is Father, Son and Holy Spirit. We become sons and daughters "in the Son", and enter communion with the Holy Trinity. Conversion involves the exercise of our human freedom to choose God and the fullness of his plan as revealed in Jesus Christ.
As we lose ourselves in Him, we find ourselves again, made new and completed. This holy exchange-our life for His-is the essence of the spiritual journey. It is not about power but powerlessness. It is not about increase but decrease. It is not about becoming greater but about becoming smaller. In short, true spirituality is about surrender.
Mary teaches us to stay afloat in the ocean of life, with all of its undertows. The same God who became incarnate within her takes up His residence in us through Baptism. He invites us to live "redemptively" for others, to become dwelling places through which Incarnate Love comes alive for all those around us. We are to respond as Mary did. She is the model of holiness.
---
More Mary, Mother of God
---
---
Appearances of Mary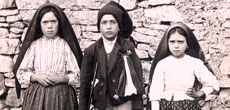 The term "appearance" has been used with Marian apparitions and visions of Jesus Christ. The Church will confirm an apparition as worthy of belief, but belief is never required by divine faith. Read More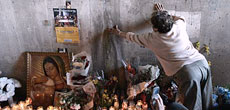 A Roman Catholic approved Marian apparition is one that has been examined by the Congregation for the Doctrine of the Faith and has been granted approval by the local Bishop or the Holy See. Read More
Approved Appearances
Traditionally
Vatican
Bishop
Coptic

Un-Approved Appearances
Approval of Faith Expression
Unapproved Apparitions

---
Mary as Mother
---
---
Mary as Model
---
Mary as Disciple
---
Way of Mary
---
Mission of Mary
---
Message of Mary
---
Devotion of Mary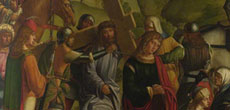 When they came to the place called the Skull, there they crucified him, along with the criminals - one on his right, the other on his left. Jesus said, "Father, forgive them... Read More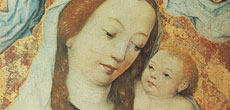 My soul magnifies the Lord, And my spirit rejoices in God my Savior; Because he has regarded the lowliness of his handmaid; For behold, henceforth all generations shall call me blessed... Read More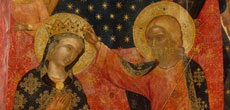 But at daybreak on the first day of the week they took the spices they had prepared and went to the tomb. They found the stone rolled away from the tomb; but when they entered... Read More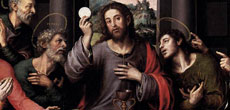 While he was praying his face changed in appearance and his clothing became dazzling white. And behold, two men were conversing with him, Moses and Elijah, who appeared in glory... Read More