Hi readers, it seems you use Catholic Online a lot; that's great! It's a little awkward to ask, but we need your help. If you have already donated, we sincerely thank you. We're not salespeople, but we depend on donations averaging $14.76 and fewer than 1% of readers give.
If you donate just $5.00, the price of your coffee, Catholic Online School could keep thriving.
Thank you.
Give Now >
The Path of Mary
The Three Marys at the Tomb - Peter Cornelius - 1815-22
By Deacon Keith Fournier
Before they were called Christians (Acts 11:26), at Antioch, they were referred to as "the Way". A Rabbi named Saul spoke of persecuting "the way" (Acts 22:4) before he was profoundly converted on the road to Damascus when Jesus, the Head, spoke to Saul concerning the way he had treated the members of His Body, the Church in these words:
"He fell to the ground and heard a voice saying to him, "Saul, Saul, why are you persecuting me?" He said, "Who are you, sir?" The reply came, "I am Jesus, whom you are persecuting. Now get up and go into the city and you will be told what you must do" (Acts 9:4-6).
The word Christian is derived from the title given to Jesus, the Christ. Christ means the "anointed One". His followers share in that anointing. They live like He lived. In fact, He lives His life through them. Many years later, Saul, now bearing the name Paul after his conversion, wrote to the Galatian Christians, "No longer do I live but Christ lives in me..." (Gal 2:20)
There is a Latin phrase, "Sequela Christi," which captures the heart of the way we are called to walk now as Christians. The term is loosely translated the "following of Christ" but it means to live our lives now, in Him, by living them in the heart of His body, the Church, for the sake of the world. Mary as the first disciple walked in that way. That is what I mean by the "Way of Mary".
The Catholic Catechism reminds us "Mary's role in the Church is inseparable from her union with Christ and flows directly from it" (CCC #964). She always points us to her Son. The One who took up residence in her womb and came to us through her is now revealed in the very pattern, the way, she reveals, the way of loving surrender.
God is not meant to be an "add on" to our life. Rather, He is its source and its summit. There is a way, a pattern that all men and women are invited into - not just once, but daily. It reveals the path to authentic peace and is the portal of the mystery of meaning itself. It is what Christian Scripture calls the "more excellent way," the way of love. Mary understood and walked this way with extraordinary humility (1 Cor. 12:31). She shows us the pattern of love surrendered to Love.
Is it any wonder that the early Christians painted her image in the catacombs during their moments of fear, persecution and doubt? They found great inspiration from this little woman of great faith. In her "yes" they came to understand that ordinary people can change human history.
They were inspired to add their own "yes," their own "fiat" to hers. Justin Martyr and many other early Christian apologists found in her "fiat," her obedient "yes" to the angel, the undoing of the "no-I will not serve" given by the first woman Eve. They called Mary "The Second Eve," the mother of a new creation.
In her womb was carried the One whom Scripture calls the "New Adam" (1 Cor. 15:45). He was born from her as the first born of a new race of men and women who would find a new birth through His life, death and Resurrection (1 Cor 15.27; 2 Cor 5.17; Col 1.15; ).
The Redeemer now resides within, and lives through, all those who respond to the invitation of Love like Mary did.
Mary's choice, her response to the invitation of a God who always respects human freedom, is a singularly extraordinary event in all of human history. However, it is meant to be much more. It is an invitation to each one of us to explore our own personal histories and to write them anew in Him by exercising our own freedom by choosing the more excellent way.
Mary shows us the way to surrender to God's loving invitations in our daily lives; a path, to living a life of surrendered love. When we live that way, Mary's way, Love Incarnate is revealed through each of us so that He can be given to others. We become "God Bearers."
We become the tent and the ark within which God takes up His residence, comes to dwell, in our age - so desperately needs His saving presence. He comes to dwell in all men and women who say "Yes" to Him. "Whoever loves me will keep my word, and my Father will love him, and we will come to him and make our dwelling with him" (John 14:23).
---
More Mary, Mother of God
---
---
Appearances of Mary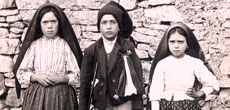 The term "appearance" has been used with Marian apparitions and visions of Jesus Christ. The Church will confirm an apparition as worthy of belief, but belief is never required by divine faith. Read More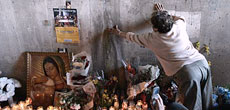 A Roman Catholic approved Marian apparition is one that has been examined by the Congregation for the Doctrine of the Faith and has been granted approval by the local Bishop or the Holy See. Read More
Approved Appearances
Traditionally
Vatican
Bishop
Coptic

Un-Approved Appearances
Approval of Faith Expression
Unapproved Apparitions

---
Mary as Mother
---
---
Mary as Model
---
Mary as Disciple
---
Way of Mary
---
Mission of Mary
---
Message of Mary
---
Devotion of Mary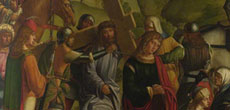 When they came to the place called the Skull, there they crucified him, along with the criminals - one on his right, the other on his left. Jesus said, "Father, forgive them... Read More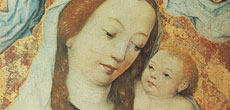 My soul magnifies the Lord, And my spirit rejoices in God my Savior; Because he has regarded the lowliness of his handmaid; For behold, henceforth all generations shall call me blessed... Read More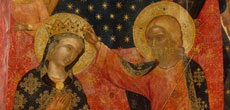 But at daybreak on the first day of the week they took the spices they had prepared and went to the tomb. They found the stone rolled away from the tomb; but when they entered... Read More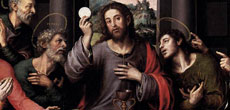 While he was praying his face changed in appearance and his clothing became dazzling white. And behold, two men were conversing with him, Moses and Elijah, who appeared in glory... Read More