St. Jozef Sebastian Pelczar
Short Cuts
Author and Publisher - Catholic Online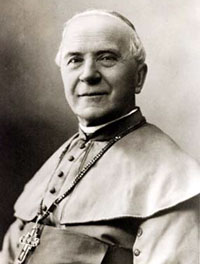 Facts
Birth: 1842
Death: 1924
Beatified By: Pope John Paul II
Canonized By: Pope John Paul II
---
Jozef Sebastian Pelczar was born in 1842 in the small Sub-Carpathian town of Korczyna in southeastern Poland. A gifted child of a pious family, he served Mass as a six-year-old. His parents sent him to the district school in Rzeszow. As a young student there he wrote in his diary, "Earthly ideals are fading away. I see the ideal of life in sacrifice, and the ideal of sacrifice in priesthood."
He entered the Major Seminary in Przemysl and was ordained for that diocese in 1864. After a short assignment as a curate in Sambor, he was sent to Rome to earn doctoral degrees in theology and canon law. At the same time Fr. Pelczar independently studied the ascetical writings of the Church Fathers. He spent his vacation one summer in Genazzano, where the miraculous image of the Mother of Good Counsel is enshrined. Many young priests, Don Bosco among them, made pilgrimages to that place to entrust their future ministry to Our Lady. In Genazzano Fr. Pelczar wrote his first book, Zycie duchowne [On the Spiritual Life] , which became a widely distributed classic.
Fr. Pelczar had a brilliant academic career, first as a seminary professor in Przemysl, and later as a faculty member, dean of the Theology Department and eventually Rector at the Jagiellonian University in Krakow. (Fr. Karol Wojtyla continued his studies in philosophy at that same university during a sabbatical in 1951).
Fr. Jozef Pelczar also did pastoral work with the St. Vincent de Paul Society and as president of the Society for the Education of the People. He founded the Congregation of the Handmaids of the Sacred Heart of Jesus in Krakow in 1894, in order to promote devotion to the Sacred Heart and to help working women, children, and the infirm
In 1899 Jozef Sebastian Pelczar was appointed Auxiliary Bishop of the diocese of Przemysl, and the following year he became the Ordinary. During his 25 years as a bishop he made regular pastoral visits to the parishes. He was especially concerned about the spiritual and intellectual formation of the clergy, being convinced that only holy priests can carry on a truly fruitful apostolate. Despite unfavorable political conditions he held three diocesan synods. He also worked to implement the social doctrine of the Catholic Church, by establishing nurseries, soup kitchens, homeless shelters and schools.
Bishop Pelczar shepherded his flock through the difficult years of the First World War, continuing after Poland regained its independence in 1918. He died a holy death on March 28, 1924. Pope John Paul II beatified him in Rzeszow in 1991, during his fourth pastoral visit to Poland.
---