St. Euphrasia Pelletier
Short Cuts
Author and Publisher - Catholic Online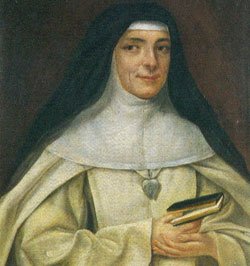 Rose Virginia Pelletier was born in 1796 in the island of Noirmoutier off the coast of Brittany; her parents had been forced to seek shelter there in the war of La Vendee. Having been sent to school at Tours, Rose came to learn something of the Convent of the Refuge. This belonged to a religious congregation founded in 1641 by St. John Eudes for the rescue of "fallen" women and the protection of those in danger. It was known as the Institute of Our Lady of Charity of the Refuge, and it had a house in Tours. Rose joined the noviceship there in 1814, and some eleven years later, when she was still only twenty-nine, was elected superior. In this office she was prevailed upon to make a new foundation at Angers and she herself went temporarily to take over a house of refuge which had existed there years before under the invocation of the Good Shepherd. Her success was marvellous, but there was a sad reaction when she was compelled to leave Angers and return to her own proper community at Tours. In the end, after much negotiation and rather painful controversy, Mother Pelletier was made prioress of the new foundation. Coming before long to realize the difficulties which would hamper their work if each house, as was the case with the Institute of Our Lady of Charity, stood alone, Mother St. Euphrasia (as she was now called) became convinced that a centralized organization was necessary, having one common noviceship, and a superior general who could transfer subjects from one house to another as need required. In spite of strong opposition and the anguish of mind entailed by taking so independent a line, Mother Euphrasia stood firm in what she clearly saw to be a wiser policy to promote the great cause they had at heart. While deeply humble and respectful of authority, the young prioress succeeded, God's providence helping, in creating at Angers what was virtually a new institute "of the Good Shepherd". Papal approbation was obtained in 1835, and the developments were rapid, immense good being visibly effected wherever new foundations were made. When Mother Euphrasia died in 1868, the Good Shepherd nuns numbered 2760 and were known all over the world. In all her manifold trials and difficulties, including charges of rash innovation, personal ambition and impatience of authority, St. Mary Euphrasia displayed heroic fortitude, cheerfulness and trust in God; "Having brought to birth all our young sisters in the Cross", she said once, "I love them more than life itself. And the root of that love is in God and in the knowledge of my own unworthiness, for I realize that at the age at which they are professed I could not have supported such deprivations and hard work." She was canonized in 1940.
The Encyclical Letter of the Holy Father Francis -  Laudato ... @ $0.00
---
---
More Saints
---
---
---
---
---
---
---
---
---
---
---
---
---
---
---
---
---

Copyright 2017 Catholic Online. All materials contained on this site, whether written, audible or visual are the exclusive property of Catholic Online and are protected under U.S. and International copyright laws, © Copyright 2017 Catholic Online. Any unauthorized use, without prior written consent of Catholic Online is strictly forbidden and prohibited.