Scientists say that Neanderthals mated with humans
---
Genome research yields surprising theories
Genome research into the remains of Neanderthal men has found that they mated with modern man. It was discovered that the Neanderthal, hunter tribes that dominated the European continent some 30,000 years ago, did they share of interbreeding.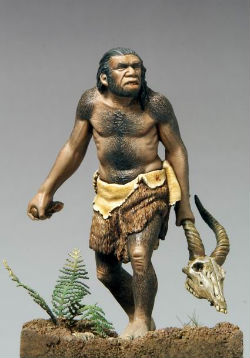 The biologists decoded the Neanderthal genome last year, where they at first reported no significant evidence of interbreeding.
LOS ANGELES, CA (Catholic Online) - The biologists, led by Svante Paabo of the Max Planck Institute for Evolutionary Anthropology in Leipzig, Germany, extracted the fragments of DNA still extant in Neanderthal fossil bones. The biologists decoded the Neanderthal genome last year, where they first reported no significant evidence of interbreeding. "Seven years ago, I really thought that it would remain impossible in my lifetime to sequence the whole Neanderthal genome," Paabo said at a news conference.  However, after comparing the Neanderthal genome with those of various modern humans, the team concluded that about 1 percent to 4 percent of the genome of non-Africans today is derived from Neanderthals. The team is quick to point out that Neanderthal DNA didn't appear to have played a great role in human evolution. Neanderthals and modern man were two separate species that split some 600,000 years ago. The team has only identified about 100 genes that have contributed to the evolution of modern humans since the split. The nature of the genes in humans that differ from those of Neanderthals is of particular interest because they bear on what it means to be human, or at least not Neanderthal. The genes are believed to have been involved in cognitive function and others in bone structure. The news is being met with skepticism by some archaeologists. They say the new analysis, which is based solely on genetics and statistical calculations, is more difficult to match with the archaeological record. The Leipzig scientists assert that the interbreeding did not occur in Europe but in the Middle East and at a much earlier period, some 100,000 to 60,000 years ago, before the modern human populations of Europe and East Asia split. There is much less archaeological evidence for an overlap between modern humans and Neanderthals at this time and place.
---
Copyright 2019 - Distributed by THE CALIFORNIA NETWORK
Pope Francis Prayer Intentions for January 2019
Young People and the Example of Mary.
That young people, especially in Latin America, follow the example of Mary and respond to the call of the Lord to communicate the joy of the Gospel to the world.
---
---