A NEW EARTH? Astronomers discover remarkably similar planet to our own
---
Dubbed Kepler-186f, planet is 1.1 times the size of Earth and orbits its star in 130 days
Astronomers have announced that they have found a planet that is remarkably similar to Earth. Called Kepler-186f, the planet 1.1 times the size of Earth orbiting a star - "only" 490 light years away. Kepler-186f is the first planet discovered with the right conditions for liquid water to exist on its surface, meaning it could support alien life as well.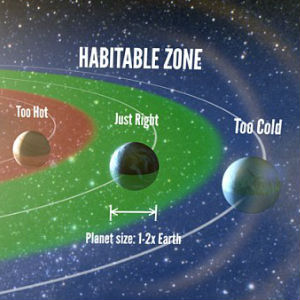 The Goldilocks zone, or habitable zone, is the belt around a star where temperatures are ideal for liquid water to pool on a planet's surface.
LOS ANGELES, CA (Catholic Online) - Discovered by a team of astronomers led by Elisa Quintana of the SETI Institute at NASA Ames Research Center, scientists reviewed planetary data from NASA's Kepler space telescope.
The telescope has found hundreds of planets. Most have been uninhabitable worlds that are either too large or orbit too close to their host star to support life.
Check out our fine selection of Bibles -- by going here!
The discovery of Kepler-186f is one of the most major events of planet searching. The fifth and outermost world of the planetary system around red dwarf star, Kepler-186 and is almost certainly a rocky planet.
Habitable zones, also known as "Goldilocks zones" are regions around a star where the temperature is just right for water to form. Earth resides in the middle of our sun's habitable zone.
Although previously we have found exoplanets, or worlds outside the solar system in these zones, none have been the same size as Earth. As our planet is known to have life, it stands to reason that a similar planet may also be habitable, making Kepler-186f the first world science has found that might host life as we know it.
The Goldilocks zone, or habitable zone, is the belt around a star where temperatures are ideal for liquid water to pool on a planet's surface. In order to find a star's habitable zone, scientists must first learn how much total radiation it emits. Knowing the size and type of the star, scientists can then estimate a region where it might not be too hot or too cold for water to form.
"Taking our planet as an example, water is pretty important for life," Dr. Steve Howell, one of the lead authors on the study says. 
"Kepler 186f will likely provide our first opportunity to search for alien life beyond the solar system."
The planet orbits an M-type dwarf star, one that is slightly dimmer than our own sun, making its habitable zone hug it slightly tighter.
However, Kepler-186f is on a slightly different orbit than Earth, taking 130 days to make it around the star. The other four planets in the system have orbits lasting three to 21 days, making them inhospitable.
---
Copyright 2018 - Distributed by THE CALIFORNIA NETWORK
Pope Francis Prayer Intentions for APRIL 2018
For those who have Responsibility in Economic Matters.
That economists may have the courage to reject any economy of exclusion and know how to open new paths.
---
---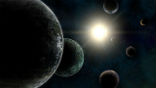 NASA is about to begin a hunt for alien planets near Earth, the first such survey ever conducted. The Transiting Exoplanet Survey Satellite ... continue reading
---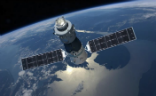 Chinese space station, Tiangong-1 is falling back to Earth and is expected to burn up on or around April 1. LOS ANGELES, CA ... continue reading
---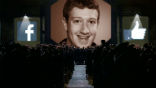 Facebook has been caught in two new scandals, both with political implications. Unbeknownst to millions of users, Facebook has been quietly ... continue reading
---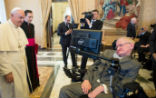 The death of Stephen Hawking this week prompted a leading Catholic scientist to reflect on the life of the famed physicist, including his ... continue reading
---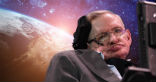 Famed physicist Stephen Hawking has died peacefully in Cambridge, age 76. The physicist was famous for his groundbreaking work in the field ... continue reading
---