Bl. Valentin Paquay
Short Cuts
Author and Publisher - Catholic Online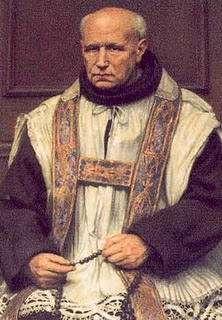 Facts
Feastday:
January 1
Birth: 1828
Death: 1905
Beatified By: beatified by Pope John Paul II on the 9 November 2003
---
Franciscan Order
of Friars
Minor
at the age of twenty-one. Following his ordination to the
priesthood
at the age of twenty-five, he spent the rest of his
life
at his order's friary in Hasselt. Deep
humility
and great devotion to the
Mass
and to the Sacred Heart of
Jesus
characterized Father Valentin's spiritual life. The veneration given to the Mother of
God
in the
parish
church he had attended as a child had engendered in him a profound love for the Blessed Virgin
Mary
that during his Franciscan years ripened into a special devotion to her under the title of the Immaculate Conception. Father Valentin zealously dedicated himself to constant preaching and the hearing of confessions. His
wisdom
in discerning the secrets of the
soul
prompted penitents from far away to journey to his confessional. Father Valentin was also a fervent advocate of the frequent reception of Holy Communion. He died on January 1, 1905.
---
---
More Saints
---
---
---
---
---
---
---
---
---
---
---
---
---
---
---
---
---
---