Diablo Delenfer gets eyeball tattoos, fanged teeth and a set of horn implants turn resemble archfiend
Spending thousands of dollars to get his tongue forked, his teeth turned into razor-sharp fangs and horns that poke from his forehead, 43-year-old Diablo Delenfer from Kent has spent thousands of dollars, or Ł10,000 to transform him into a living, breathing minion from hell.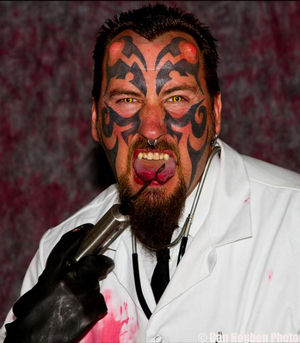 An earlier version of Diablo Denefer, before his facial tattoos.
LOS ANGELES, CA (Catholic Online) - Delenfer, a former security guard and self-described "body modification artist" is now intent to have screws implanted into his skull in a bid to create a devilish metal Mohawk!

Delenfer will suffer for his art: Since "body modification" is unlicensed and unregulated in the United Kingdom, the entire operation will be done without anesthetic.

This beautiful crib medal can be purchased -- here:


"Everything I've done, I've done fully conscious, fully awake," he explains. "You see the needle coming towards you and that's really stressful. You can't be scared of pain if you're the Devil Man.'
Formerly known as Gavin Paslow, Delenfer has had his tongue sliced in two to fork it, along with sub-dermal implants to create a set of horns and an eyeball tattoo that has turned the whites of his eyes bright red.
He has no plans to stop. "I describe myself as a body modification artist," he explains.
"I am a human curiosity but body modification is my life's journey. It's a little bit weird, a little bit eccentric but that's what I am."
"I chose to become the Devil Man because everything else has been done, whether here or in America. I'm not satanic at all - it's just a piece of fun."
Delenfer admits that his hobby is expensive. "Over the years, it's probably cost me Ł10,000 to look like this," he explains. "Being a Devil Man doesn't come cheap!"
There is an admitted dark side to Delenfer's fun and games. In 2009, Delenfer was caught swindling Ł3,552 by making a series of fraudulent benefit claims and was sentenced to 200 hours of community service.
The divorced father-of-two said after his trial that "I was really constrained by money and I just wanted to have these modifications done so I used my benefit money to pay for some of them. It was a stupid mistake and I'm really sorry. I'm paying it all back. I really regret it."
Is there a bright side to his pursuit of darkness? "But I'm pleased with my look so far, but what I really want is a tail. And not just a synthetic one - a proper, organic tail." 
Delenfer has since had his ears made pointy and endured a series of painful tattoos that now cover his face and arms.
Looking like Lucifer has made his quest to find a girlfriend - somewhat difficult.
"Relationships is a bit of a difficult issue to be honest," he confesses. "I'm looking for someone who can see beyond the mask.
"It has changed the way people look at me, accept and deal with me. It has made certain aspects like relationships difficult but it is my life journey and I ain't stopping!"
Pope Francis calls for your 'prayer and action'...
---
Copyright 2017 - Distributed by THE CALIFORNIA NETWORK
Pope Francis Prayer Intentions for DECEMBER 2016
Universal:
End to Child-Soldiers: That the scandal of child-soldiers may be eliminated the world over.
Evangelization:
Europe: That the peoples of Europe may rediscover the beauty, goodness, and truth of the Gospel which gives joy and hope to life.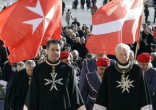 By Elise Harris (CNA/EWTN News)
In the latest development in an ongoing feud between the Vatican and the Knights of Malta, the Holy See has issued a statement affirming their support for the Order and their work, but saying they expect full cooperation with an investigation into the dismissal of the ... continue reading
---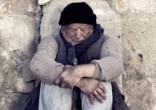 By Kenya Sinclair (CALIFORNIA NETWORK)
Many of the Vatican's Cardinals were openly upset at the erection of a McDonald's within sight of St. Peter's Square - until the fast food chain revealed its charitable side. LOS ANGELES, CA (Catholic Online) - Many have celebrated the controversial chain after charity ... continue reading
---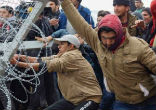 By David Drudge (CALIFORNIA NETWORK)
The number of Muslims in Italy is growing rapidly, prompting one archbishop to issue a warning - Italy will become a Muslim country in a decade if the people do not wise up to what's happening. LOS ANGELES, CA (California Network) - A Catholic Archbishop has a dire ... continue reading
---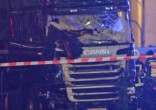 By Kenya Sinclair (CALIFORNIA NETWORK)
A museum in Bonn, Germany may create a terrorist collection for its visitors. LOS ANGELES, CA (Catholic Online) - The Haus der Geschichte, or House of History, is currently deciding whether to include the truck that mowed down and killed twelve people in the Berlin ... continue reading
---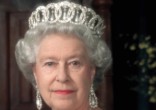 By Kenya Sinclair (CALIFORNIA NETWORK)
UPDATE: Queen Elizabeth has made her first public appearance since falling ill Christmas weekend.The Monarch awarded a Lieutenant of the Royal Victorian Order (LVO) to Ray Wheaton for his services to the Royal Family and Royal household and sent the President of Turkey ... continue reading
---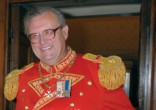 By Kenya Sinclair (CALIFORNIA NETWORK)
Fra' Matthew Festing, the leader of the Order of Malta, recently promised his loyalty to Pope Francis, amid a Vatican investigation. LOS ANGELES, CA (Catholic Online) - The Order of Malta is one of the oldest lay religious orders of the Catholic Church. It has ... continue reading
---

By David Drudge (CALIFORNIA NETWORK)
As the vise tightens on ISIS in Syria and Iraq, the barbaric terrorist state is sending its soldiers abroad to spread terror around the world. Now an ISIS general is rumored to be in Europe with 400 of his best soldiers, all disguised and ready to attack. LOS ANGELES, ... continue reading
---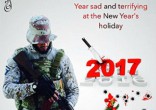 By Kenya Sinclair (CALIFORNIA NETWORK)
The Islamic State has posted several threatening messages to its encrypted social media site Telegram. LOS ANGELES, CA (Catholic Online) - According to Foreign Desk News, several graphics have been released on Telegram, all of which call for lone wolf attacks amid New ... continue reading
---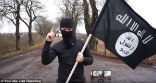 By David Drudge (CALIFORNIA NETWORK)
Following the killing of Europe's most wanted terrorist in Italy, people in Germany have asked how is it that a most wanted terrorist can cross borders without detection? One man made a video to answer the question. LOS ANGELES, CA (California Network) -- German and ... continue reading
---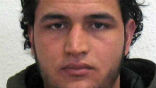 By Marshall Connolly, (California Network)
Terrorist Amis Amri was shot and killed by an Italian police trainee in Milan on Friday. The incident ends a massive international manhunt for the suspect who drove a big rig truck into a crowded Christmas market in Berlin, killing 12 and injuring 38 others. LOS ... continue reading
---
All Europe News