It's official: Carolina Reaper peppers are the hottest on Earth
---
Proud farmer's claim is verified by the Guinness Book of World records
For people that are adventurous when it comes to the culinary, there is a search among the most daring for the world's very hottest chili pepper. There have been many contenders to the throne as to which pepper sends the consumers with tears streaming down red cheeks most effectively. According to the Guinness Book of World records, the search is over. The Carolina Reaper peppers, courtesy of proud farmer Ed Currie have been pronounced as the World's Hottest.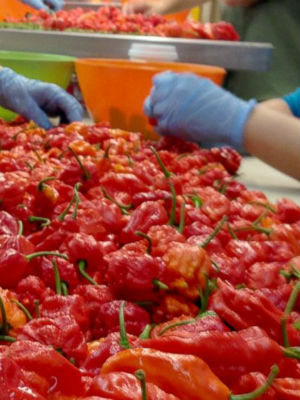 Currie's peppers give the consumer fair warning with their fire-engine red color and stem that resembles a scorpion's tail.
LOS ANGELES, CA (Catholic Online) - Currie's peppers give the consumer fair warning with their fire-engine red color and stem that resembles a scorpion's tail. The pepper contained here is described as being as potent as most pepper sprays used by police.
The Guinness Book of World Records decided Currie's peppers were the hottest on Earth last month. Officials had conducted a four-year search to find the world's hottest chili pepper. Students at Winthrop University vouchsafed Currie's peppers as the hottest as part of their undergraduate classes.
The criteria used in the selection was quite clear. Paul Bosland, director of the Chile Pepper Institute at New Mexico State University explains that the heat of a pepper depends not just on the plant's genetics, but also where it is grown. "You have to think of chili heat like salt. A little bit improves the flavor, but a lot ruins it," Bosland said.
There are some doubters in the bunch. Some people have asked Currie if the record should be given to the single hottest pepper tested instead of the mean taken over a whole batch.
But Currie shrugs off these naysayers. "What's the sense in calling something a record if it can't be replicated? People want to be able to say they ate the world's hottest pepper," Currie said.
In determining Currie's plant's status, a chemical analysis was used. Hot peppers' particular kick is related around chemicals compounds called capsaicinoids. The higher concentration the hotter the pepper, Winthrop University professor Cliff Calloway says.
The heat of a pepper is measured in Scoville Heat Units: a regular jalapeno pepper registers around 5,000 on the Scoville scale. Currie's world record batch of Carolina Reapers comes in at a stunning 1,569,300 Scoville Heat Units. An individual pepper measured at 2.2 million. To get an idea of how hot that is, pepper spray weighs in at about 2 million Scoville Units.
"I haven't tried Ed's peppers. I am afraid to," Calloway said. "I bite into a jalapeno - that's too hot for me."
While he revels in the recognition, it just a small stepping stone to Currie's overall plan. He's determined to build his company, PuckerButt Pepper Company, into something that will let the 50-year-old entrepreneur retire before his young kids grow up.
Currie has about a dozen employees. Even with the publicity of the world record, he still gets nervous about making payroll. He said the attention has helped him move closer to the goal of making PuckerButt go into the black.
---
Copyright 2018 - Distributed by THE CALIFORNIA NETWORK
Pope Francis Prayer Intentions for July 2018
Priests and their Pastoral Ministry.
That priests, who experience fatigue and loneliness in their pastoral work, may find help and comfort in their intimacy with the Lord and in their friendship with their brother priests.
---
---