By Catholic Online (NEWS CONSORTIUM)
11/7/2013 (2 years ago)
Catholic Online (www.catholic.org)
Carbon dioxide, other greenhouse gases in Earth's atmosphere reach record high in 2012
The World Meteorological Organization Secretary-General Michel Jarraud says that the world has made its bed - and now must lay in it. Carbon dioxide and other greenhouse gases reached their absolute peak last year, and even if the world were to stop using CO2 emissions today, mankind will have to endure the changes wrought by climate change for centuries.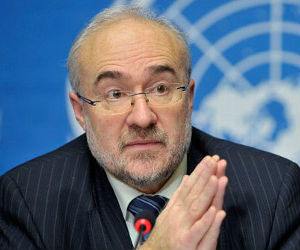 The World Meteorological Organization Secretary-General Michel Jarraud says that the world has made its bed - and now must lay in it.
LOS ANGELES, CA (Catholic Online) - The organization reports that this accelerating trend will have devastating consequences on the world's weather, unless developed nations do more to to rein in emissions. 

The warming effect on the Earth's climate has risen by nearly one-third since 1990, the U.N. Agency says. This is mainly due to atmospheric levels of carbon dioxide and other heat-trapping gases, such as methane and nitrous oxide.

The Greenhouse Gas Bulletin notes that fossil fuel-related emissions, mainly from carbon dioxide, account for 80 percent of the increase in warming. CO2 concentrations in the atmosphere grew more rapidly last year than the average growth rate over the past decade.

Jarraud says the increase of carbon dioxide is mostly due to human activity, such as industry, energy production, land use and deforestation, among other factors.

"CO2 is a very stable gas, so it means that there is no sort of chemical reaction which would naturally destroy CO2 [in] the atmosphere. So it stays for very long periods - hundreds of years, or even more. And that is why, as a consequence, the actions we take now or the actions we do not take now will have consequences for a very, very long period," Jarraud says.

Methane is the second biggest contributor to greenhouse gas and to the potential warming of the atmosphere. About 40 percent of methane reaches the atmosphere from natural sources, such as wetlands and termites, with the remaining  60 percent from human activities including cattle breeding, rice agriculture, fossil fuel exploitation and biomass burning.

Nitrous oxide is the third most important greenhouse gas. Sixty percent of emissions come from natural sources and 40 percent from human activity. Nitrous oxide also plays an important role in the destruction of the atmosphere's ozone layer, which protects people from the harmful ultraviolet rays of the sun.

"We are worried not only about the impact on temperature, which is important, but also the impact on the water cycle - more droughts, more floods in other parts of the world. We are worried about the impact on a number of extreme weather events. We are worried about the impact on the sea level," Jarraud says.

Jarraud warns global average temperatures may be 4.6 degrees higher than pre-industrial levels by the end of this century if the world carries on with "business as usual."

A birth foretold: click here to learn more!


---
Copyright 2015 - Distributed by THE CALIFORNIA NETWORK
Pope Francis Prayer Intentions for April 2016
Universal:
Small Farmers: That small farmers may receive a just reward for their precious labor.
Evangelization:
African Christians: That Christians in Africa may give witness to love and faith in Jesus Christ amid political-religious conflicts.
---
---
---

By Kenya Sinclair (CALIFORNIA NETWORK)
With more and more nations agreeing that climate change is not only real, but also dangerous, more world leaders are making a move to save the planet. LOS ANGELES, CA (Catholic Online) - Senator Jeff Merkley took the Senate floor last week to say global warming is one ... continue reading
---

By Marshall Connolly (CALIFORNIA NETWORK)
Thirty-eight volcanoes are erupting right now. Earthquakes are making the news. Is something supernatural about to occur? LOS ANGELES, CA (Catholic Online) - "Take care that no one deceives you," Jesus admonished his disciples in the book of Matthew. The Disciples were ... continue reading
---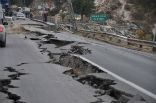 By Marshall Connolly (CALIFORNIA NETWORK)
Both a psychic and a scientist have predicted the current spate of quakes which have shook Asia, the South Pacific, and South America, and their predictions are on record. The eerie occurrence has many asking if North America is next. LOS ANGELES, CA (California ... continue reading
---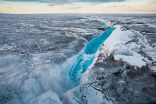 By Marshall Connolly (CALIFORNIA NETWORK)
Scientists are in shock as a massive Greenland ice sheet has started melting far sooner than expected and in great volume. The data is so surprising, the researchers initially believed it to be an error. LOS ANGELES, CA (California Network) - On April 11, sensors that ... continue reading
---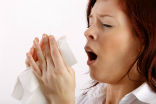 By Marshall Connolly (CALIFORNIA NETWORK)
Anthropocentric global warming is going to make you sick, according to a new federal report. The 332-page report was released Monday and it predicts a host of consequences from global warming that will begin, or have already begin to affect the country. LOS ANGELES, CA ... continue reading
---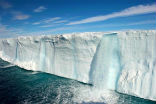 By Marshall Connolly (CALIFORNIA NETWORK)
The Arctic is melting and it's happening faster than anticipated. So far, Arctic sea ice has reached its lowest level ever on modern record. It is also thinner. While the Arctic sea ice does not contribute to sea level rise, it does serve as an indicator for how our ... continue reading
---

By Kenya Sinclair (CALIFORNIA NETWORK)
Imagine you have a farm and the years have been kind. You look out at your bountiful harvest that God has blessed for generations and you smile with pride and joy.Then the unthinkable happens; a horrible drought hits and suddenly the future of your farm, which has ... continue reading
---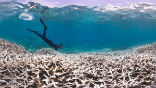 By Marshall Connolly (CALIFORNIA NETWORK)
Report after report, study after study confirms, the planet is in serious trouble. Within 50 to 150 years, and within the lifetime of children born today, the world will experience catastrophic weather changes. Carbon dioxide, and methane emissions have spiked and ... continue reading
---

By Marshall Connolly (CALIFORNIA NETWORK)
Does everybody still believe global warming is a hoax? Yet more data confirms what scientists have feared for a long time, the planet is warming, and it may have passed a tipping point. The latest data now reveals that February 2016 was the hottest February on record, ... continue reading
---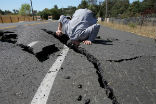 By Marshall Connolly, California Network (NEWS CONSORTIUM)
A massive earthquake predicted for California in early March did not occur, although scientists now know what set off the alarm among so many scientists. The answer is, a glitch in satellite data. LOS ANGELES, CA (California Network) - In late February, California was ... continue reading
---
All Green News