Bl. Josaphat Chichov
Short Cuts
Author and Publisher - Catholic Online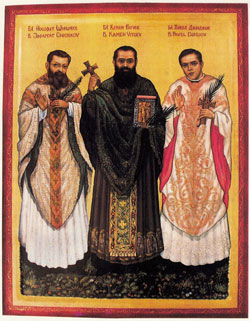 Facts
Birth: 1884
Death: 1952
Beatified By: Pope John Paul II
---
Matthew
Chichov, of Plovdiv, Bulgaria, entered the Assumptionist congregation at the age of sixteen, taking the religious name Josaphat. A talented musician, he was assigned to conduct a
college
band while serving at the Assumptionists'
College
of Saint Michael in Varna.
Josaphat
was ordained a Roman Rite
priest
at the age of twenty-five. Over the years that followed, he served as a
parish
priest, a
convent
chaplain, a
college
professor, a
Catholic
writer, and the
superior
of a seminary. A gifted homilist, Father Chichov was a promoter of
family
devotion to the Sacred Heart of Jesus. Not averse to modern means of communication, he utilized a phonograph player and a film projector to instruct his students. In December of 1951, Father Chichov was arrested by Communist troops. On September 29, 1952, he was put on trial for his
faith
together with thirty-nine other
Catholic
priests, religious, and lay people. On November 11, Father Chichov was executed together with his fellow Assumptionists, (Blesseds) Kamen Vitchev and Pavel Djidjov.
---
---
More Saints
---
---
---
---
---
---
---
---
---
---
---
---
---
---
---
---
---
---