Police Officer's Partner - Angel Stories
By: Alfredo Lopez
Location: Bakersfield CA USA
I had been a police officer for 18 months when I was viciously attacked by a parolee on an enforcement stop. My face was cut up and I was bleeding profusely from my right eye. I lost alot of blood and could not see with my attacker and I still fighting. The fight lasted 11 minutes in 106* heat. I felt like I was losing and was desperate when I heard a voice whisper in my ear,"Ask God for help." I had completely forgotten to pray. I asked God to let me finish this fight and go home. Suddenly a lady drove by, got out of her car and screamed into my car radio that an officer was down and needed help. Suddenly I heard the sirens of other officers responding. I was able to outlast the bad guy with strength I suddenly found until help arrived. I suffered a concussion along with 8 stitches to close my eye, but I was able to go home to my pregnant wife. To this day, I can still hear the voice telling me to ask God for help. I know that was the voice of my guard!
ian angel. This strengthened my faith in God and my angel.
---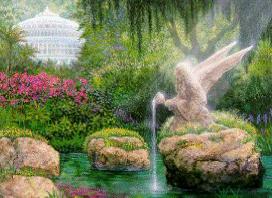 Some may never see with earthly eyes these heavenly beings or know that they exist. Many are unaware of the numerous ways they have protected and guided us. We would like to share with you the stories of people who take pleasure in expressing how real angels are.
---
More Saints
---
---
---
---
---
---
---
---
---
---
---
---
---
---
---
---
---