An Angel's Message of Warning - Angel Stories
By: Joan Fowler
Location: Louisville Kentucky USA
Our 11 month old son was in his playpen in the family room. His dad was watching a ballgame on tv in the same room and Jason had his normal FisherPrice toys all around him to keep him from getting bored. I was upstairs working on the laundry when I decided to lie down on the bed for a few seconds to rest. While I was almost ready to doze off, a clear voice spoke to me and said, \"The baby is choking, go now!\"

I got up immediately and ran down the steps to the family room. I saw Jason standing up in his playpen smiling at me. Then I noticed my husband eating potato chips and drinking a coke. He turned around and asked me what was wrong. I said, \"Jason is choking.\" My husband looked at the seemingly calm child and said, \"You were dreaming. He's fine. Go back upstairs and rest.\" I couldn't let this strong command I heard go unchecked. So, I went over to Jason and stuck my finger in his mouth and pulled out 1/2 of a plastic Fisher Price key from a play keychain. He was seconds away from swallowing the large object he had bitten off that would surely have choked him to death. My knees became weak and I fell to the ground. I began thanking God for sending a message from Jason's angel that was sent to protect him from harm. I have the broken key set in his box of memorbilia and I look at it every few years just to remind me to always be on my guard when I receive a command that u!
rges me to take action. It may be a life-saving experience for me or someone I know. I always praise God for his Angels. Their messages are directly from the Throne of Our Father in Heaven and they are sent to keep us in His care.

---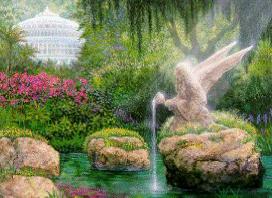 Some may never see with earthly eyes these heavenly beings or know that they exist. Many are unaware of the numerous ways they have protected and guided us. We would like to share with you the stories of people who take pleasure in expressing how real angels are.
---
More Saints
---
---
---
---
---
---
---
---
---
---
---
---
---
---
---
---
---
---