Erin - Angel Stories
By: Leigh Boyles
Location: Land O Lakes FL USA
I was 8 months pregnant with my fourth child when my sister Erin died in a fire October 8, 1993. She married a Muslim Man who cheated on her; they had a child born on Halloween 1992. After her husband left her, she did her best to find a job and an apartment for herself and Muhammad. When things got tough she made a decision to move back home, convert back to Catholic and have her son baptized as Joseph Muhammad. Erin's death was a tragic mystery. Her husband sent the Baby to Jordan.


I had given Erin all of my furniture and moved to Pennsylvania. A week before the fire, I had nightmares of seeing my things burning, but the home was not familiar. I was horrified when my sister called me from Florida to tell me of the accident. I made plans to fly home for the funeral. An autopsy was needed so for closure we decided on a memorial service. Then my mother would receive her ashes, Mom always said Erin should be locked in a closet until she was 30. On the evening I flew back to Pennsylvania, I had a dream (I think) Erin sat at the edge of my bed with her bags packed. She told me she was fine, her husband has his son and she will have her daughter with her always. She said that she can watch Joey and he will be fine. Her words did not comfort me. I demanded to know what happened. She said that it was alright and I just would not understand. Angrily, I told her that she always uses that excuse; I turned away and shouted just go away.. She did.


I prayed for her to forgive my anger for so many nights. She came to me again I was brought to her from someone I could not see. I was led into a bright white foggy room. Erin lay on a bed in labor. She said "I want to share this with you." I could sense people all around me by I could not see anyone. A few moments later, I was presented with a tiny glowing baby; Erin said "I want you to meet my daughter." I held the baby and at that moment I felt at peace with her death.


On November 14th, one month later my son Richard was born. I have not heard from Erin again. I know she is watching Joey and guiding him back to her family. His father contacted me; he asked me if we would like to meet Joey. We had him to our home and took him to Clearwater Beach. He is the spitting image of her.



---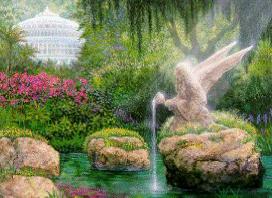 Some may never see with earthly eyes these heavenly beings or know that they exist. Many are unaware of the numerous ways they have protected and guided us. We would like to share with you the stories of people who take pleasure in expressing how real angels are.
---
More Saints
---
---
---
---
---
---
---
---
---
---
---
---
---
---
---
---
---
---