It's Mother Calling - Angel Stories
By: John Nichols
Location: Scottsdale AZ USA
On Saturday, September 30, 2000 I attended a retreat dedicated to the blessed Mother. During one of our small group sharings some one asked me how did my return to Catholicism begin - after I had been away for so long. I closed my eyes and remembered what had occurred.



On December 8, 1980 I was sitting in my office in Fort Belvoir, Virginia doing some legal work. I was an Army lawyer at the time. I heard a voice say: "John, do you know what today is? It is the Feast of the Immaculate Conception. I want you to go to church today."


I looked up from what I was doing and looked around. There was no one in my office. I thought to myself: "Who said that?" I had the impression that someone was playing games with me. I called the General's secretary down the hall. I knew that she was Catholic. I asked her what day today was. She replied: "Tuesday, silly." - or something like that.


"Maggie, I know that. Is today a holy day?"


"Yes," she replied. "It is the Feast of the Immaculate Conception."


I was stunned. "Are they having mass today at the Post Chapel? I asked her.


"Yup - in 15 minutes."


She explained to me how to get there and I left immediately. I went into the chapel and found a seat near the front. As I sat down I could feel my mother sitting next to me. I didn't see her but I am certain that she was there. She then said to me: "I want you to go to mass from now on."


I answered silently in my head: "Yes, Mother."


Then she was gone. What makes this story more remarkable is that my Mother had died on January 17, 1980, about 11 months previously. She had always been very concerned for my soul and was very devoted to the Blessed Mother. For example she had taken me to First Saturday mass, dedicated to the Blessed Mother, for years!


I am very grateful to her for this miracle but I owe her for so many other things too. When I had met Kaye, the woman that I married on June 7, 1980 (only months after my mother died), my mother had told me that Kaye was "the one." I had introduced my mother to many other women previously and she had always turned them down. I had begun to believe that she would never approve of anyone. My mother was as right as rain. My marriage to Kaye has been one of the greatest blessings in my life. We get along extremely well. She has brought me peace, joy, and security that I had never known in the previous 39 years of my life.


Why do Kaye and I get along so well? Neither one of us can figure it out. Both of us had failed in other relationships, but there was something unique about our togetherness. We had been given a great gift - from God! We didn't deserve it. We didn't earn it. We could never have expected it! As I tend to see our lives we have many failings and weaknesses but our personalities tend to compliment each other.


These two incidents mark the beginning of my resurrection from the dead. My resurrection is still in process. In 1980 I found myself returning to church after many years away from the Faith. My faith has grown from a tiny spark then to a small campfire now. The process of my conversion remains a work in progress.


I am deeply grateful for the Mercy of Jesus Christ and for the intercession of my Mother and the Blessed Mother for these miracles. I can see my mother pleading with Mary to be allowed to try to save her son, me! Mary listened in her warm loving way and then turned to her son, Jesus. Like at the wedding feast at Cana she pointed out that without my mother's intervention that I would most likely end up in hell. Jesus thought about this a moment, considered the state of my soul, consulted His Father to determine His will, and then gave my mother permission to visit me personally.


Thank you, Dearest Jesus. Thank you, Dearest Father. Thank you, Dearest Blessed Mother. Thank you, Mom. Thank you Dearest Holy Spirit for your continued light and leadership.



---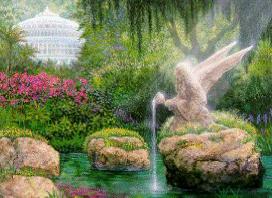 Some may never see with earthly eyes these heavenly beings or know that they exist. Many are unaware of the numerous ways they have protected and guided us. We would like to share with you the stories of people who take pleasure in expressing how real angels are.
---
More Saints
---
---
---
---
---
---
---
---
---
---
---
---
---
---
---
---