Treasure our gifts - Angel Stories
By: Kim J.
Location: Pine Prairie LA USA
I was told I was nearly 5 months pregnant with my third daughter at a very difficult time in my marriage. In my eighth and nineth month of the pregnancy, I had a unique dream once in each month. A very beautiful lady, an angel in my eyes, came to me in my dreams with a message that my Grandma Emily had sent me my daughter as a gift from her. My Grandma went home to our Lord 8 years earlier.

It was the most wonderful message that I could've received at that moment in my life. Not to mention that after my baby girl, Jamie, was born, I had the dream once again. I knew that God was sending me a wonderful gift and blessing at the most difficult time of my time life. I treasure all my gifts from God and thank Him for sending them to me.

---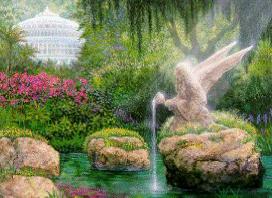 Some may never see with earthly eyes these heavenly beings or know that they exist. Many are unaware of the numerous ways they have protected and guided us. We would like to share with you the stories of people who take pleasure in expressing how real angels are.
---
More Saints
---
---
---
---
---
---
---
---
---
---
---
---
---
---
---
---
---
---