Guardian Angel - Angel Stories
By: Maria
Location: Ocala FL USA
When I was about 7 years old my family and I survived a fire in our apartment which destroyed everything in it. My parents were not able to salvage anything, clothes, furniture, momentos, all were lost.


It was on this night that we were visited by a Guardian Angel who we believe was my younger sister who was born gravely ill and only lived for 1 hour after birth.


On this night, my dad was ill with the flu and had taken medication to help him sleep through the night. They had switched rooms with me because my room was cooler and that would help with his fever. My mother told us that at some point during the night she remembers a small hand trying to pull her arm telling her to wake up in a sweet voice and that the next thing she knew she was standing looking at a closet off of the living room which was completely engulfed in flames. She immediately woke my father up and they ran to our rooms and tried to wake us up. I woke up when my mom accidentally dropped me on the floor while trying to pick me up and my brothers wouldn't wake up so my dad carried one each under his arm.


Our apartment was on the third floor and we were locked into the apartment because the type of locks on the door required a key, even from the inside, and the key was in the living room which was engulfed in flames. Windows were popping and we could feel the heat from the fire which was getting closer. I remember my father calling God's name and asking for his help. My dad took the door and yanked on it so hard that the door came off of the hinges and we were able to escape down the stairs.


The firemen said that the fire was started by an electrical short and that they were surprised at the extent of damage. They said we were lucky that we got out and that no one was hurt.


Luck had nothing to do with it. To this day, we all know without a doubt that our Guardian Angel was watching over us and saved us.


---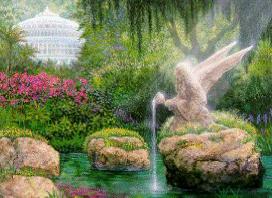 Some may never see with earthly eyes these heavenly beings or know that they exist. Many are unaware of the numerous ways they have protected and guided us. We would like to share with you the stories of people who take pleasure in expressing how real angels are.
---
More Saints
---
---
---
---
---
---
---
---
---
---
---
---
---
---
---
---
---
---