When we think no one else - Angel Stories
By: Nancy Sonier
Location: Gonzales Louisiana USA
I was on top of the world when the Doctors told me I was pregnant. It was all my husband and I had hoped for.


One night late in October I woke up and something had horribly gone wrong. I woke my husband and he rushed me to the hospital. Upon arriving there my Doctor gave me no hope, told me that I was young and could have another child. They would do a surgery when my pregnancy test came up negative. All that day they checked every two hours, at nightfall my husband had to leave and I was alone, scared and all I knew to do was pray.


I started praying, and when I did an angel came to me, the room became warm and the dim light that was burning at the time lightened up the whole room. She brushed my hair back and calmed me with soothing words. She told me not to worry, believe and all would be ok.


The next morning when I woke up, the bleeding had stopped and the doctors couldn't figure out why the test kept coming back positive. I told him it was because I would be back there to have my baby.


She was born 6 months later and is now 29years old. My angel still comes at times when I am distressed, but she calms me and I always know things are going to be ok.


---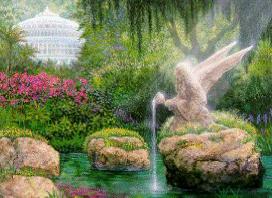 Some may never see with earthly eyes these heavenly beings or know that they exist. Many are unaware of the numerous ways they have protected and guided us. We would like to share with you the stories of people who take pleasure in expressing how real angels are.
---
More Saints
---
---
---
---
---
---
---
---
---
---
---
---
---
---
---
---
---
---