An angel heard my prayer - Angel Stories
By: Maria Cabral
Location: Warren, RI USA
It was the winter of 2000. I was driving home to pick up my daughter. The weather was clear and cold, but the streets of New England were covered in a mix of sand and ice. I was driving on the highway when I realized I hadn't put my seatbelt on. I reached across my shoulder and put on my seat belt. Then I reached over to the passenger seat to grab my phone, I was going to call my daughter's father to let him know I was on my way to pick her up. Just then I looked up to see that a large vehicle had cut infront of my car. I swerved to avoid hitting the car and lost control of my own car. By the time I had my car straightened out, I was on the wrong side of the barrier wall and headed for a hill of snow. I held onto the stearing wheel, closed my eyes, and said in a low calm voice, "God, help me." For the next few minutes, there was darkness and calm. I could feel my body being tossed inside my car. Once I regained conciousness, I realized my car had come to a stop among some trees. For the next few minutes, I tried to get out of my car. Somehow police and rescue crews arrived at the scene of my accident. Everyone thought that I was dead because of the condition of my vehicle, which had rolled over several times. My car was a convertible and no longer had a roof. I went in and out of conciousness. Still, I remember a woman praying along side me in a language other than English, yet I understood her every word. She continued to pray the Hail Mary while I was hoisted into the ambulance. I never saw her, but I felt her presence and I heard her as clear as the sirens. I was treated in the hospital for a broken nose and head lacerations, and was released the following day.


After talking to and thanking the officer and rescue personnel from the scene of my accident, I asked if anyone got the name of the woman who stayed with me and prayed for me. No one saw anyone. Everyone at the accident insisted that the only women there were myself and the officer.


I have faith that God heard my prayers. My Guardian Angel was with me and is the reason I survived that accident. Why did I put on my seat belt just moments before the accident? Why was I so calm when I called on God to help me? Who was praying for me? What language were they speaking, and how could I understand?


I cannot answer with fact, but only with faith. I believe in angels, and my guardian angel. The Lord knew it was not my time to go, my children still need me.
---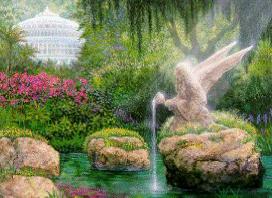 Some may never see with earthly eyes these heavenly beings or know that they exist. Many are unaware of the numerous ways they have protected and guided us. We would like to share with you the stories of people who take pleasure in expressing how real angels are.
---
More Saints
---
---
---
---
---
---
---
---
---
---
---
---
---
---
---
---
---