How an angel saved my daughter - Angel Stories
By: Patricia Ten Eyck
Location: Frederick MD USA
When my daughter, Kate, was about 17 months old, she was toddling about our house one day. Our living room, dining room, and kitchen form a horse-shoe shape, with the living room and the kitchen at either end of the horse-shoe. I was sitting flat on the floor in my living room,with my legs straight out in front of me,and I was praying. It is important to know that, because of the shape, I could not see into the end of the kitchen. I was suddenly lifted, straight up, by hands FELT on my elbows, and set on my feet. Then I was compelled to move by a hand FELT on my back in the direction of the kitchen, around the middle of the horse-shoe shape.


As I came around the corner, I saw my daughter sitting at the entrance to the laundry room, which was off the kitchen. She had unscrewed the cap from a plastic container of liquid Clorox bleach which I had foolishly left on the floor in the entrance to the laundry, and was sitting there moving it to her mouth to drink. Needless to say, I got there before she ingested any Clorox.


God is so good, halleluia!



---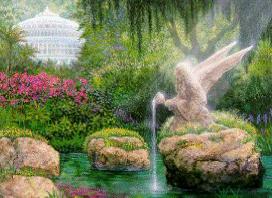 Some may never see with earthly eyes these heavenly beings or know that they exist. Many are unaware of the numerous ways they have protected and guided us. We would like to share with you the stories of people who take pleasure in expressing how real angels are.
---
More Saints
---
---
---
---
---
---
---
---
---
---
---
---
---
---
---
---
---
---