I am okay now - Angel Stories
By: Jessica Edwards
Location: milwaukee wisconsin USA
When my grandmother was in the hospital, my 2 younger brothers never went to see her. they didn't want to remember thier grandmother lying in a hospital bed. well, about 2 months after she passed my brothers were lying in their beds when all of a sudden they felt a cold breeze and saw extremely bright light rays coming from the darkest corner in the room. they were frozen with fear because they didn't know what it was. as they laid there watching, 3 light forms floated over them. as they laid there the light forms started to take shape. one being of our grandmother that just passed, one being of our great grandmother who passed when our mom was a baby and the other of our great grandfather whom also passed when my mom was a baby.


as they laid there they could hear my grandmother's voice telling them that she was okay now and that she was happy. after the forms disappeared, they rain up stairs to tell me what had happened, and because these boys never cry, i had to believe them because that both had tears running down their faces, and they were sobbing. after about a half hour they were able to sleep. in the morning when i woke up, i glanced at her picture that was beside my bed, i noticed that etched in the wood of the night tabel was "i am okay now. I am happy here, in heaven."


Now that i know she is okay, i will know i will be okay.


---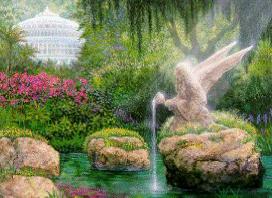 Some may never see with earthly eyes these heavenly beings or know that they exist. Many are unaware of the numerous ways they have protected and guided us. We would like to share with you the stories of people who take pleasure in expressing how real angels are.
---
More Saints
---
---
---
---
---
---
---
---
---
---
---
---
---
---
---
---
---
---