Driving with angels... - Angel Stories
By: Lori Leissner
Location: Austin Tx USA
My faith in God and Angels has been tested many times. My faith was restored one afternoon while driving from Austin to San Antonio after a long 12 hour shift at work.


Most highways have those annoying bumps, or ridges carved in the pavement along both sides of the highway. Their purpose is to alert you that you are too close to the edge of the highway when you are driving. Great alarms for people who fall asleep. After working a long shift overnight, I drove my family to San Antonio to attend a holiday celebration. I popped in a cd to keep me awake. My children had dosed off in the backseat, and my husband was resting in the passenger seat. I glanced down at the player, and set it to track 3, moved over to the far left to get into the fast lane.


I remember driving, and singing to the song. I remember tilting my head back to rest, my neck had started to hurt. There is a section on this highway that has no ridges, and on this section there is a stone wall where a river runs under the bridge. I opened my eyes and saw my car maybe 5 inches from that stone wall. As my heart dropped into my stomach, and my foot slammed on the brake...I realized in that split second that my life and the lives of the people I love most were almost gone. My car stopped, I looked back at my kids, looked at my husband, and looked at the track number on the cd player. It was on 5.


I have no idea how long I was asleep, no idea how I crossed through three lanes on the highway without crashing, and no idea what woke me up. There were no ridges, no loud noises, no horns honking, nothing. Just music playing. Nothing that would have caused me to wake up and realize that I was about to crash into a wall and go over a bridge.


Angels were in the car. God was watching. They were there with us that day, and they woke me up just in time. I truly believe that we are blessed, and that there are angels watching us. There was nothing else that could have kept us from crashing, or woken me up that morning.....nothing but the love of God and his watchful Angels. My faith was restored.




---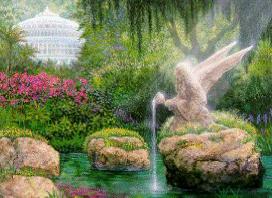 Some may never see with earthly eyes these heavenly beings or know that they exist. Many are unaware of the numerous ways they have protected and guided us. We would like to share with you the stories of people who take pleasure in expressing how real angels are.
---
More Saints
---
---
---
---
---
---
---
---
---
---
---
---
---
---
---
---
---
---