Saved from ferocious dogs - Angel Stories
By: Roger Hayes
Location: Gt. Yarmouth Norfolk England
I have a genetic condition with which I was born and as a result I am lets say 'a bit vulnerable'.
I went to a an automobile scrap yard to get some spare part for my car. Arriving late in the afternoon and haveing to park several hundred yards from the main site office,


On my arrival I passed the dog compound which contained some very large very nasty looking wolf-like alsation dogs. I like dogs but these did not look very friendly.


I spent the rest of the afternoon looking at the very old cars. Eventually it started to get dusk and I decided to find the cars I needed to remove the spare parts.


When I went to the site office to pay for them it was closed. So I went up to to bungalow which was a few hundred yards from the site. When I knocked on the door, the woman who answered it looked as white as a ghost. Shocked and horrified she invited me in quickly. She summoned her husband. She expained what I had told her 'that I had spent the afternoon looking around at all the old cars in the scrapyard, then as it was getting late, decided to get my spare parts and as the site office was shut, was now trying to pay for them. He too went deathly white.


He explained that the site had closed two hours before and the dogs had been let loose from their compound. The noise I would have made hammering and knocking on cars should have alerted them.The fact I walked freely past the main site office where the dogs are normally lurking,to my car to get some more tools, then upto their home at the top of the hill unmolested.


The owners said that even the owners wife does not walk about on her own afer hours.


After the dogs [all six of them] had been made secure, I was escorted back to the main part of the compound then onto my car.


The owner said he just could not understand how I had been able to walk around the site, particularly where the dogs roamed, unmolested for 2-hours. I should have been attacked by the pack and ripped to pieces.


I have no idea. I never saw a dog all the while I was there except when I first arrived when they were in their compound. I believe my guardian angel was looking after me. I was very safe. The dogs as far as my angel was concerned, were very secure. They simply could not harm me.






---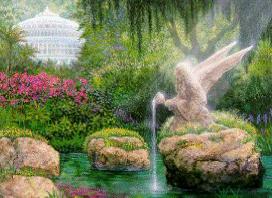 Some may never see with earthly eyes these heavenly beings or know that they exist. Many are unaware of the numerous ways they have protected and guided us. We would like to share with you the stories of people who take pleasure in expressing how real angels are.
---
More Saints
---
---
---
---
---
---
---
---
---
---
---
---
---
---
---
---
---
---