World Trade Center Angels - Angel Stories
By: Roxanne Cintron
Location: Secaucus NJ USA
When I was a college student, I took a job in a store that sold Apple Computers. The other staff members were mostly students, also. One reminded me of David Niven. He had a slight build, a charming smile, and a sharp wit. It was no surprise to any of us when he interviewed for a position at a software publisher in New York City and was immediately hired. We all took our turns congratulating him. I was particularly happy fo rhim because he had always made life at the store entertaining with his comments and optimistic take on life.


I told him how happy I was for him and asked him where his job was located. Our store was only half an hour from Manhattan. He told me he would be working at the World Trade Center. It was then that my heart sank. My former employer and I had visited her husband\'s office there once and I had been scared to see a small plane flying close to the towers. My friend\'s husband had assured me then that all people were told to go to the fireproof stairways in the event of a plane crash.


When I talked to Andy he told me the same thing. However, my feelings were stronger than ever this time. I asked him what he would do if the crash occurred beneath his floor. He said that he would go to the roof to wait for an helicopter. He seemed so confident and I did not want to sound like an old fuddy duddy. So I said to him, \"Well, I;m sure God would take care of you.\" His next words stunned me. He told me that he was agnostic and did not really believe in God. I ws floored when a voice said to me that I shoudl tell hiom that if he wre ever in a very bad situation that God would forgive those words even at the last minute. Insterad of saying that I told him something a little milder, that God would always take care of him because he was such a nice person. But in my mind I saw him trapped in the World Trade Center.


Of course, years passed and I never saw my co-worker again. I was living right across from the World Trade Center and working in West New York when the planes hit the Twin Towers in September, 2001. My first thoughts were of my former co-worker. I always prayed that he had somehow made it out alive. But when I saw the list of confirmed dead his name was at the top.


I was talkign with friends recently, five years after the tragedy recounting this stoy when my best friend looked me in the eye and told me two stories that allayed my fears for him.


One story was of her friend who had just arrived at the WTC when the first plane hit. She was Catholic but also Pentecostal and had run for her life over the Brooklyn Bridge as a cloud of debris and dust hurtled toward her. She finally outran the cloud and had time to turn to look at what was unfolding. It was then that she saw thousands of angels riding the clouds, bearing spirits of the newly dead to a gigantic figure of Jesus. This had truly touched me becaue I had seen the Associated Press photograph reprinted in Newsweek of a diablolical head in the dust alongside the World Trade Cecnter smirking evilly. I had wondered where God was that day and now I knew. Of course, he was there.


But still I fretted over my co-worker. What about someone who was agnostic?


My friend, Ronnie, told me this story. A Catholic priest had also witnessed the crashes from the other side of the Brooklyn Bridge and felt complelled to say the prayers of Last Rites as the buldings fell and long afterward. He said them, she told me, so that all the souls who needed it could go to heaven.


These healing words lifted a five year burden from my hear. That she should have learned of these two miracles and been able to repeat them to me was a thrid miracle.


I know that Andy who was truly one of God\'s special people was only being called home. His guardian angel and the angels of my best friend, her friend, the priest in Brooklyn, the angels of all those people trapped in the world Trade Center towers and on the planes, and finally my guardian angel were all taking part in God\'s plan to protect, to deliver, and to comfort.


---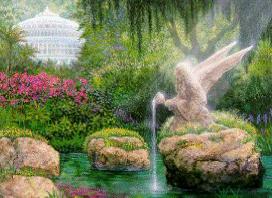 Some may never see with earthly eyes these heavenly beings or know that they exist. Many are unaware of the numerous ways they have protected and guided us. We would like to share with you the stories of people who take pleasure in expressing how real angels are.
---
More Saints
---
---
---
---
---
---
---
---
---
---
---
---
---
---
---
---
---
---