An Angelic Appearence - Angel Stories
By: Sunaira Barkat
Location: Sydney NSW Australia
One day I was standing in a shop busy looking at something I wanted to buy when a very graceful old man came up to me and said " daughter can I ask you something " . a little reluctant I said very politely "yes sure what do u want to ask?" . He looked at me carefully and said "You are just like my daughter and i wanted to say something to you . I think you worry a lot , and i also see some grey hair , which is a sign that you worry too much . So daughter do not worry or get depressed over things because life is too short for all these things, enjoy it as much as you can and get most of it .i was so surprised and just smiled . Then he left. Few seconds later i went looking for him in the shop to say thankyou but i couldn't find him anywhere . Just a few seconds and as it was a very big shop and we were standing at the very end of it he wouldn't have moved out so quickly .

I believe he was an angel sent from Heaven . To comfort me in my sorrows. And i thank God for that !




---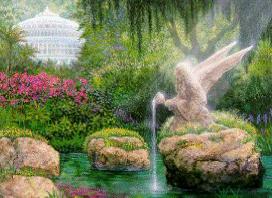 Some may never see with earthly eyes these heavenly beings or know that they exist. Many are unaware of the numerous ways they have protected and guided us. We would like to share with you the stories of people who take pleasure in expressing how real angels are.
---
More Saints
---
---
---
---
---
---
---
---
---
---
---
---
---
---
---
---