A Dream - Angel Stories
By: Marlene Slominski
I had just broken up with my boyfriend who had a son. I was feeling very sad about everything. I loved this boyfriend and his son very much. When I was going to sleep, I said to the Lord, "You have to help me I don't think I can get over this by myself". That night I dreamed that my boyfriend and I are were in an arguement. I felt a tap on my shoulder, I turned and saw the most beautiful women I had ever seen. I knew in a moment she was an Angle. She said to me don't do this to yourself. She had the complexation of a human but without a single blemish. Really beautiful eyes and hair of gold. Not like any other hair I had
ever seen. To this day I do not feel sad anymore about that relationship ending. I know without a doubt, the Lord sent me one of His Angels to help me.
---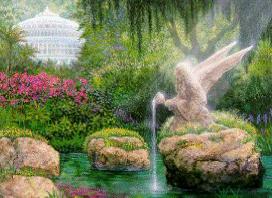 Some may never see with earthly eyes these heavenly beings or know that they exist. Many are unaware of the numerous ways they have protected and guided us. We would like to share with you the stories of people who take pleasure in expressing how real angels are.
---
More Saints
---
---
---
---
---
---
---
---
---
---
---
---
---
---
---
---
---
---