St. Riccardo Pampuri
Short Cuts
Author and Publisher - Catholic Online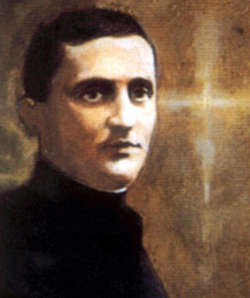 Facts
Feastday:
May 1
Birth: 1897
Death: 1930
Beatified By: October 4, 1981, Saint Peter's Square by Pope John Paul II
Canonized By: November 1, 1989, Vatican Basilica by Pope John Paul II
---
Riccardo Pampuri (2 August 1897 - 1 May 1930), was an Italian medical doctor from Trivolzio and is a canonized saint in the Roman Catholic Church. Born Erminio Filippo Pampuri, he took the name Brother Riccardo when he entered the Brothers Hospitallers of St. John of God. He was born in Trivolzio, Province of Pavia.
---
---
More Saints
---
---
---
---
---
---
---
---
---
---
---
---
---
---
---
---
---
---