Bl. Maria Raffaella Cimatti
Short Cuts
Author and Publisher - Catholic Online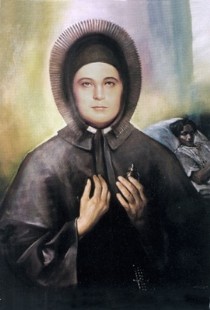 Facts
Birth: 1861
Death: 1945
Beatified By: Pope John Paul II
---
Born into a family of humble (his father was a laborer, weaver's mother) went to work early to help her mother. Hospital became a nun and worked initially for a short period, San Giovanni hospital in Rome. He was then transferred to the hospital of St. Benedict where he was soon appointed Alatri pharmacist. It was sent to direct the hospital pharmacy of Frosinone, where he remained twenty years it eventually became the office of Superior.
In 1921 he returned to Alatri. During the battle of Monte Cassino was committed because doctors and nurses were not failing in their duty of care to patients of the hospital of Alatri, only one still in operation in the immediate rear of the front. For this he earned the nickname "Angel of the sick." Dropped the Cassino front, during the retreat the Germans were planning to blow up the hospital Alatri, whose ruins have blocked the road for some time the allies; Sister Raffaella collaborated with Bishop Edward Facchini to convince the Germans, who already had placed the mines, to spare, because the patients were mostly intrasportabili. Finally, the hospital was saved.
Alatri remained in the hospital until his death on June 23, 1945. It was desired to be fulfill its mission even when, become sick, they could receive better care elsewhere.
---
---
More Saints
---
---
---
---
---
---
---
---
---
---
---
---
---
---
---
---
---