Bl. Giovanni Maria Boccardo
Short Cuts
Author and Publisher - Catholic Online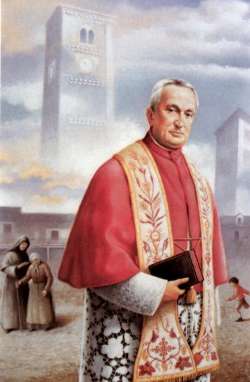 Facts
Birth: 1848
Death: 1913
Beatified By: Pope John Paul II
---
He was born in Moncalieri, the eldest of ten children, three of whom died in infancy and three became priests, including Luigi Boccardo who, in turn, was beatified.
He studied at home, beginning to help the poor of the country and, in particular, taking care of a blind beggar. After the unification of Italy, in 1861, he attended the gymnasium of the fathers Barnabas, and ended the school he entered the seminary. During this period assiduously sought the "sanctity", thinking that it is clear from his writings (he drew something like 44 volumes, which is still almost completely unknown, containing thoughts and ideas of life).
On June 3, 1871, John was ordained a priest in Turin by Msgr. Balma. In 1873 he became spiritual director of the seminary of Chieri, where he entered as an assistant a few months after his ordination as priest.
In Turin, Giovanni and Luigi maintained a friendship with the great saints of the time: John Bosco, Murialdo, Joseph Allamano.
In 1882, he became pastor in Pancalieri, where he remained until his death. Much is devoted to catechism and was often called to preach in other parishes.
In 1884, after a terrible epidemic of cholera: the priest devoted himself, with the help of some young people, to the relief of the sick. This inspiration the opening of a hospice for people left destitute and in need of help.
Perhaps his greatest work was the foundation of women's religious congregation of the Poor Daughters of Saint Gaetano, currently active in Italy, Brazil, Benin, Argentina and elsewhere. The task given to the Poor Daughters is to assist the chronically ill and infirm, abandoned children, elderly people and sick priests. Before Sister Carlotta was consecrated to St. Gaetano Fontana, who took the name Sister Gatena of the Blessed Sacrament.
In 1911 John was struck by paralysis. On December 30, 1913 died in Pancalieri.
---