Bl. Anne Catherine Emmerick
Short Cuts
Author and Publisher - Catholic Online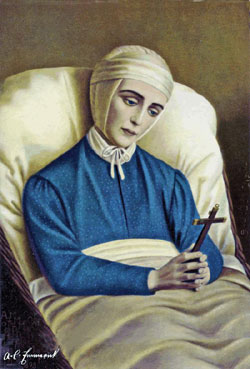 Facts
Feastday:
February 9
Birth: 1774
Death: 1824
Beatified By: October 3, 2004, St. Peter's Basilica, Vatican City by Pope John Paul II
---
woman
in Coesfeld, Germany, Anne Catherine Emmerick, employed as a seamstress, daily attended Mass, visited the Blessed Sacrament, and in the late evening spent hour upon hour praying on her knees. Around midnight, she would leave her home to make the
Stations of the Cross
by candlelight at a series of wayside shrines outside her village, along a lengthy path that wound through the pine woods, taking over two hours to complete. She offered her devotions especially for the souls in purgatory, who in turn assisted her, as she explained: "Whenever I do something for them, they pray for me." In her interior life, she drew much
inspiration
from the liturgical ceremonies of the Church, especially those of Holy Week. At the age of twenty-eight, Anne Catherine entered an Augustinian convent. But in 1811, after nine years of religious life, she was forced to leave when her
convent
was suppressed by Napoleon, who controlled the region. Soon afterward, she fell ill, and spent her remaining years bedridden. In this state of suffering, she received numerous visions, private revelations, and the mystical gift of the stigmata.
---