St. Simeon Barsabae and Companions
Short Cuts
Author and Publisher - Catholic Online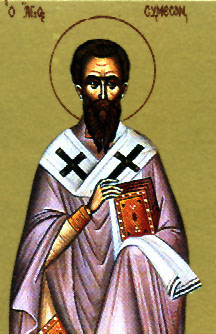 bishop
of the cities of Seleucia and Ctesiphon in
Persia
(Iran), was arrested during the
persecution
of Christians under the Persian king Sapor II. In response to the king's threats,
Simeon
responded, "I wish to hold out my head to the sword and die for my people...my
sacrifice
is not much compared to that of my Master!" After professing his
faith
and refusing to worship the sun,
Simeon
was imprisoned together with a hundred other Christians, including
bishops
and priests. While a prisoner, he persuaded the king's own tutor to return to the
Catholic
faith. On the night of Holy Thursday,
Simeon
kept a vigil, praying that he might be privileged to die on
Good
Friday, "on the same day, and at the same hour" as his Savior. His
prayer
was answered the next day, after he was made to watch the beheading of all the other Christians imprisoned with him, whom he encouraged before suffering death himself. The
Christian
layman Pusicius, a supervisor of the king's workmen, encouraged one of the priests facing martyrdom. He himself was thereupon executed together with his daughter Askitrea.
---
---
More Saints
---
---
---
---
---
---
---
---
---
---
---
---
---
---
---
---
---
---