Bl. Anacleto GonzŠlez Flores
Short Cuts
Author and Publisher - Catholic Online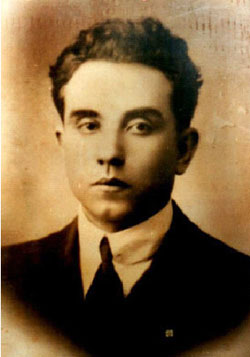 Facts
Feastday:
April 1
Birth: 1888
Death: 1927
Beatified By: 0 November 2005, Guadalajara, Jalisco, Mexico by Pope Benedict XVI, recognition celebrated by Cardinal Josť Saraiva Martins
---
Catholic
Association of Young Mexicans (ACJM). He taught classes in catechism, was dedicated to works of charity and wrote articles and books with a
Christian
spirit. In 1922 he married María Concepción Guerrero and they had two children. By 1926, the situation in
Mexico
had worsened and Anacleto, who up until this
time
had advocated passive, non-violent resistance, joined the
cause
of the National League for the Defence of Religious Freedom upon learning of the
murder
of four members of the ACJM. In January 1927 guerrilla warfare spread throughout Jalisco and from his many hiding places Anacleto wrote and sent bulletins and studied major strategies. The young
man
was captured on the morning of 1 April 1927 in the home of the Vargas Gonz√°lez family, along with the two Vargas brothers. He was taken to the
Colorado
jail, where his torture included being hung by his thumbs until his fingers were dislocated and having the bottom of his feet slashed. He refused, however, to supply his captors with any information. José Anacleto González Flores was condemned to death and was shot together with the Vargas González brothers and Luis Padilla Gómez on that same day, 1 April 1927.
---
---
More Saints
---
---
---
---
---
---
---
---
---
---
---
---
---
---
---
---
---
---