Angel told me my mother would be ok - Angel Stories
By: Joe Genovese
This happened in 2005. I was on a phone call giving a job reference to a recruiter for one of my friends. She was very interesting and we ended up talking more about other things than my friend and his job. I told casually that I would be traveling because my mother was having heart surgery.

She told me that I was not to worry, because my mom was going to be live and be ok. My mom was having very serious open heart surgery to replace a valve and repair damage from radiation she had from cancer treatment. I thought that maybe she was a little nuts and said thank you very much.

Later I drove from Georgia to Ohio to be there for the surgery. I got to her house at midnight and we talked until 1am. However we had to be at the hospital at 4:00am. So I got two hours of sleep. I prayed that all would be well and that I would have the stamina to stay alert and awake for my mom.

Before my mom went into surgery, I was praying to myself asking for enough courage to ask my Mom, brother and aunt to pray with me before my mom's surgery. Just then a woman came in and said she was the chaplan and that we should all pray. So we prayed and when we were finished she looked at me and said the Holy Spirit is with you.

Just as I was told my mom came though with flying colors, I didn't worry at all that day and managed to stay awake. Praise God!

Thank you for your angels.
---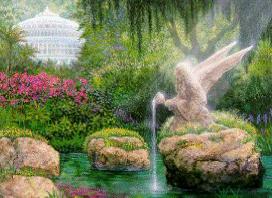 Some may never see with earthly eyes these heavenly beings or know that they exist. Many are unaware of the numerous ways they have protected and guided us. We would like to share with you the stories of people who take pleasure in expressing how real angels are.
---
More Saints
---
---
---
---
---
---
---
---
---
---
---
---
---
---
---
---
---
---