Angels for the birds - Angel Stories
By: CMB
One nice spring day, the back door of my house was open to let in the breeze. A bird flew into my house and landed on the sill of a high window.

I stood there not knowing what to do. I was worried for the bird. I did not want it to get stuck there.

I closed the back door and opened the front. I stood in the center of the room and closed my eyes and said,

"Angel please help this little bird find its way home. I want it to be healthy and happy in its nest. Please, Angel, help this little bird."

I opened my eyes, and despite not being able to see them, I knew the Angels were there; two of them.

And, the bird was lifted from the window sill and flew out the front door.

I said, "Thank you Angels." And shut the front door.

I could feel their presence, and I knew they had come to rescue the precious bird.
---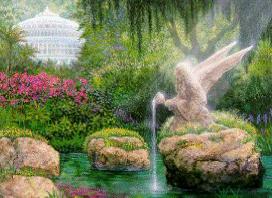 Some may never see with earthly eyes these heavenly beings or know that they exist. Many are unaware of the numerous ways they have protected and guided us. We would like to share with you the stories of people who take pleasure in expressing how real angels are.
---
More Saints
---
---
---
---
---
---
---
---
---
---
---
---
---
---
---
---
---
---