angel of comfort - Angel Stories
By: ROSEMARY MORSE
In March of 2009, I underwent a complete hip replacement. Before my surgery and while I was being wheeled into the OR, I prayed that the Lord stay with me and surround me with His angels.

I woke up in my room, I thought alone, but as I looked around, in the semi-darkness, I saw a man dressed in white standing not far from my bed. He did not speak or move, but his presence brought me such comfort through the pain of my surgery. I fell back asleep and when I awoke, he was still there standing in the same place. This happened two more times.
The next morning, my sisteer called me and I told her that a nurse was with me in my room all night, which is what I believed.

During the day, I inquired into who the male nurse was on duty last night and was told there were no male nurses on duty on my floor.

Later that evening, a male nurse came in and I asked him. He told me that he was the only male nurse on my floor and did not work last night.

This troubled me greatly because I was so sure of what I saw and the comfort it brought me.

I then remembered my prayers and believe to this day that theere was a presence in my room and since there was no explanation for it, it was one of God's Angels, sent to comfort me during this time of pain and anxiety.
---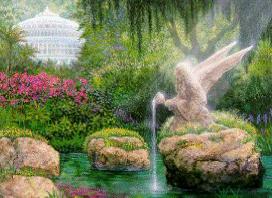 Some may never see with earthly eyes these heavenly beings or know that they exist. Many are unaware of the numerous ways they have protected and guided us. We would like to share with you the stories of people who take pleasure in expressing how real angels are.
---
More Saints
---
---
---
---
---
---
---
---
---
---
---
---
---
---
---
---
---
---