My First Written Encounter - Angel Stories
By: Tommy Fry
When my parents go out to spend a weekend of camping (a common occurrence), I typically stay over at their apartment and care for the dog and cat. So, it was just me by myself with both of the animals; I was walking down the hall, when I felt a rustling next to me, like someone just passed by. This happened repeatedly throughout the day at their house. That night, as I was praying an evening prayer, I looked up and saw a man, dressed in black with his hand pressed against the front door and murmuring something (When I mentioned it later to my mentor, who has had a number of encounters with angels, he nodded his head and said that the dark dressed man was Saint Michael praying for protection over the household-apparently, he does that a lot). When I passed by one room, I kept on hearing clinking and creaking, like someone in armor was shifting weight from one foot to the other. Finally, in the middle of the night, I saw whom I feel was my personal guardian angel, who first appeared as a large joyous monk with a sword strapped on his back. He turned around, and said "fear not, Lord, for your servant watches." I woke again later in the night, to see a massive black dog sitting in the doorway and panting heavily. I recognized it to be my dog when I was a small boy named Shadow- I feel that sometimes, our guardian angels appear as things or people that will give us the most comfort.

I hope this story gives you the comfort you seek. When we remember who we are, as friends of God, we walk in a power that is quite beyond ourselves. Hold steady to the hope that you are not fighting alone; you have some of the most loyal soldiers around you, constantly guarding and providing. When we realize the power we hold, when we emblazen the cross boldly on our breast daily, when we take up the weapon of the Holy Ghost's Joy, that is when the Lion of Judah roars triumphantly over our lives. That is when the deepest residents of Hell tremble at our footstep.
---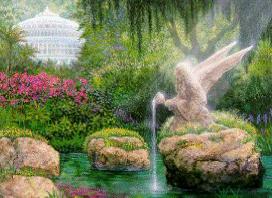 Some may never see with earthly eyes these heavenly beings or know that they exist. Many are unaware of the numerous ways they have protected and guided us. We would like to share with you the stories of people who take pleasure in expressing how real angels are.
---
More Saints
---
---
---
---
---
---
---
---
---
---
---
---
---
---
---
---
---