St. Mary in my dream on 1st Nov. (day of all saints) - Angel Stories
By: Mymessage
It was on Monday, 1st Nov.2010 between 2 to 3 a.m. In my dream I saw St.Mary outside my Family's home which is found in Emdiber, Ethiopia. St.Mary was appeard like my Mother and dressed completly white traditional closing. I was like 100 m far from her. I saw her from such a distance and I asked myself 'it is too early in the morning, why my Mom standing in the garden?' Again i was confused because her height was almost twice the height of my Mother. I said 'is my Mother such long?' As i came closer, she was smiling. Immidiatly i was filled with mother's love and my sprit told me that she is St.Mary. Then I asked her 'are you my Mom or St.Mary?' further i continued to beg her like 'Please don't leave me alone?' 'Please be with me?' and asked 'Shall I be with you in the heaven? Then she answerd me 'yes' further I asked 'What looks like my earthly life? Is it something that makes God happy? or I am living a sinful life?' then she said 'it is good.' After saying this she dissappeard immidiatly and I woke up from my dream. Since then, i am using St. Mary's Medal.


Prayer: St.Mary! as you promised me to enjoy my heavenly life with you, please pray for me until i achieve this promise and also remember my wife and all my families amen!

---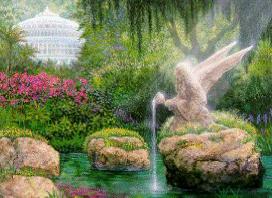 Some may never see with earthly eyes these heavenly beings or know that they exist. Many are unaware of the numerous ways they have protected and guided us. We would like to share with you the stories of people who take pleasure in expressing how real angels are.
---
More Saints
---
---
---
---
---
---
---
---
---
---
---
---
---
---
---
---
---