My Gardian in Adoration Chapel - Angel Stories
By: John R. Broussard
I was on a 3 day silent retreat in early October, 2010. On our second full day I decided not to do any reading, just spend my time in Prayer. As we walked through the Way Of the Cross, I made an effort to get infornt of each station and create a vision of each. After finishing I went to the Adoration Chapel to be with our Lord. My mind was clear as I sat back in the chair relaxed thinking of only the love I had for Jesus, all of a sudden with my eyes closed, in the upper right hand side of my minds eye, an Angel appeared with a round face, it was a baby boys face, I could not see but sinced his small body and wings. He began to explain to me, not with his words or his mouth moving, it was words coming to my mind, that he was my Grand parents first born child who died at 2 months old of Polieo. And that he was my true Gaurdian Angel, then under him appeared his parents(my Grandparents), just their faces, and I recieved little very significant messages from each. And they looked happier than I had ever remembered them, then thier other son who died when he was 19, who I was named after appeared with no words, after that under them my other 2 grandparents each appeared, with my Grandmother explaining to me how she had it all wrong in life, about God and her beliefs, that I was on the right road to everlasting salvation and she was so proud of my father for developing a relationship with God. Then to the bottom left corner of my minds eye appeared my Godfather, crying very sad, looked as if he were behind bars, as he began to explain to me how he made a covenant with God to get him out of jail and introuble with the law when he was younger and if he did he would serve God faithfully the rest of his life. Well God delivered on his end but Pat did not and ended up dieing of a broken heart and an overdose of crack cocaine, leaving his family in a bad situation with today a lot of negative in the home .
As I walked to the Church for our evening mass, I pondered those visions and wondered, did I make them up myself? Was it real? As mass started on Sat. Oct. 2, 2010 they mentioned it was the feast of Angels, and the Homily was all about describing different typs of angels and how real they are. I was blown away to say the least as my doubts of my expereince was washed away, knowing it was a true gift from God.
When I returned from retreat and told my mother of experience, she told her sister who inturn called me crying, telling me she had been praying to her little brother she never new for his protection over her and her sisters.
---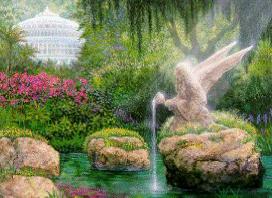 Some may never see with earthly eyes these heavenly beings or know that they exist. Many are unaware of the numerous ways they have protected and guided us. We would like to share with you the stories of people who take pleasure in expressing how real angels are.
---
More Saints
---
---
---
---
---
---
---
---
---
---
---
---
---
---
---
---
---
---